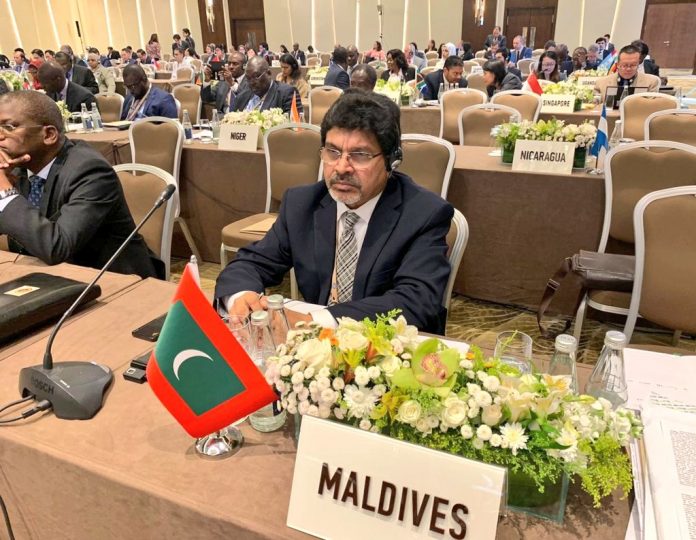 Foreign Secretary of Maldives, Abdul Ghafoor Mohamed has participated at the Preparatory Ministerial Meeting of the Non-Aligned Movement (NAM), which is presently ongoing in Baku, the capital city of Azerbaijan.
The Preparatory Ministerial Meeting is being held in preparation for the 18th Summit of Heads of State and Government of the NAM, which will be attended by His Excellency Abdulla Shahid, Minister of Foreign Affairs, who will travel to Baku on 24th October.
In delivering his remarks, Foreign Secretary Ghafoor mentioned that cooperation between the Member States of NAM is crucial to find meaningful solutions to the challenges of the world today, and that the Maldives stands ready to work with all countries to formulate adequate responses in a concerted manner.
The Foreign Secretary also alluded to the fact that climate change and environmental deterioration remains one of the most profound problems facing the contemporary world, and one of the most critical issues for the Maldives. As such, the Maldives urged Member States to demonstrate their commitments to transition to a greener, low carbon economy. The Maldives statement also outlined its solidarity with the Palestinian people and for the establishment of an independent and sovereign State of Palestine.
In concluding his remarks, Foreign Secretary Ghafoor reaffirmed the Maldives commitments to the founding principles and objectives of the Movement, and to work closely with all countries to seek a world that promotes peaceful co-existence and cooperation.