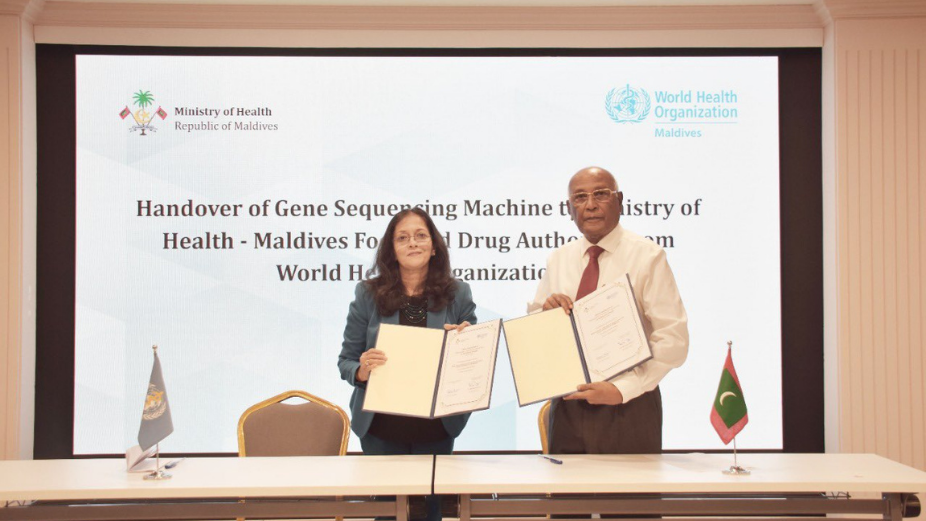 World Health Organization (WHO) has donated a gene sequencing machine to the Ministry of Health for establishing gene sequencing in the public sector of Maldives.
During the ceremony held for the handover, Minister of Health Ahmed Naseem accepted the donation on behalf of the ministry.
Handover ceremony held today for donation of Gene Sequencing Machine to @moh @mfda from @who for establishing Gene Sequencing in public sector of Maldives. pic.twitter.com/xgixj7Ibcu

— Ministry of Health (@MoHmv) April 6, 2022
Maldives has been conducting gene sequences by sending samples abroad so far. However, through this machine, it will enable fast turnaround time to gain knowledge of circulating variants. It is also easily deployable & cost-effective.
WHO states that genome sequencing will support the monitoring of COVID-19 spread, activity & evolution of the virus, opening new paradigms in epidemic & pandemic prevention & control as well. Building in-country sequencing capacity will help not just with COVID-19, but also other dangerous diseases such as Influenza, Measles, etc