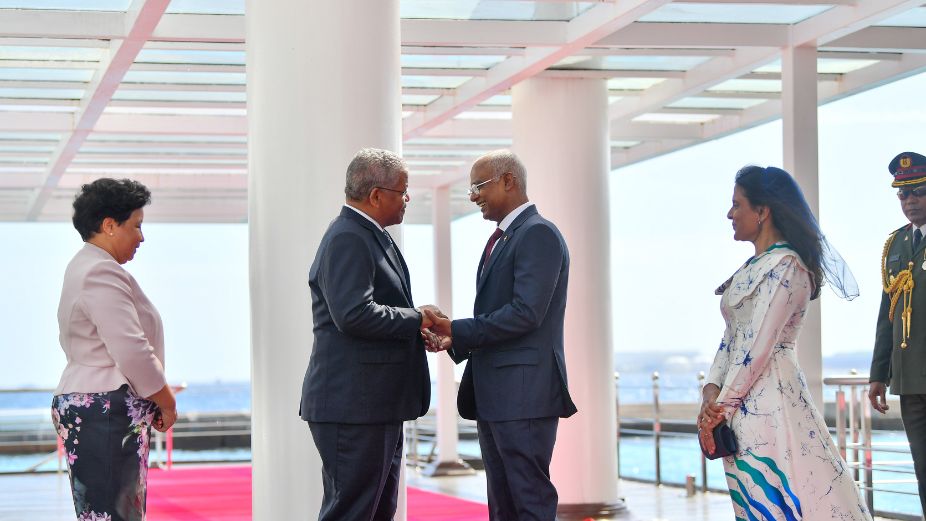 The Government of the Maldives hosted an official welcoming ceremony for the President of the Republic of Seychelles, H.E. Mr Wavel Ramkalawan, and First Lady, H.E. Mrs Linda Ramkalawan, at the Republic Square on Monday. The ceremony marked the beginning of the state visit of the Seychellois President and First Lady to the Maldives.
H.E. President Ibrahim Mohamed Solih and H.E. First Lady Fazna Ahmed received the President and First Lady of Seychelles at the Presidential Jetty in Malé. Maldivian students performed a welcoming ceremony, and the guests were then escorted to the saluting dais. The Maldivian National Defence Force (MNDF) fired a 21-gun salute in their honour. The Maldivian military brass band played the national anthems of the Maldives and Seychelles.
The senior officials of the Maldivian Government and the senior representatives of the Seychellois Government presented themselves together in the presence of a guard of honour. After the welcoming formalities, President Ramkalawan was escorted to the President's Office in a cultural procession. Upon arrival at the President's Office, he signed the Visitors' Book.
Afterwards, President Ramkalawan is scheduled to meet with President Solih for official talks. The two leaders will preside over an agreement exchange ceremony and deliver a joint statement following the talks. President Solih will also host a state luncheon in honour of the President and First Lady of the Republic of Seychelles.