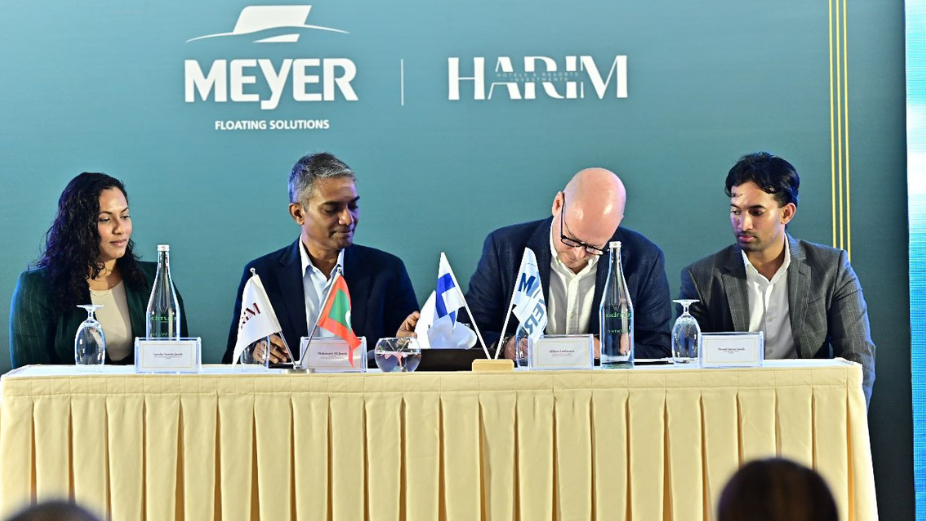 Hotels and Resorts Investment Maldives (HARIM) and Meyer Floating Solutions have partnered to develop a series of floating real estate water villas in K.Villivaru. This partnership aims to revolutionise the resort and luxury real estate market in the country.
At a special ceremony held at Kurumba Maldives, the Chairman of HARIM, Mohammed Ali Janah, and the Director of Meyer Floating Solutions, Mikko Lahtonen, signed an agreement to solidify their collaboration. The project will entail the construction of floating water villas in various locations throughout the Maldives.
Under this partnership, the initial phase of the project will involve the creation of 13 luxurious over-water villas in Villivaru, South Male' Atoll. These villas will be developed using cutting-edge technology, specifically 6F printing, and are expected to redefine the concept of luxury living in the Maldives.
In his speech at the ceremony, Chairman Mohammed Ali Janah expressed his enthusiasm for pioneering new ventures in the construction industry, emphasizing its potential to revolutionize the construction industry and elevate the luxury real estate sector in the Maldives. He also highlighted the innovative financing approach, with plans to secure financing from the European Investment Bank to facilitate the sale of these exclusive villas.
Mikko Lahtonen, Partner and Director of MEA Meyer Floating Solutions, shared his vision for the project, stating their intention to introduce a new standard of quality in real estate development on water. Recognizing the Maldives' leadership in the hospitality sector, he expressed their commitment to enhancing the country's reputation by providing sustainable, high-quality construction solutions.
Dr Abdulla Mausoom, Minister of Tourism, echoed Minister Aslam's sentiments, emphasising the need to adapt the construction industry to the challenges posed by climate change. He expressed enthusiasm for this groundbreaking project and its potential to revolutionise the construction and real estate sectors.
The Minister of National Planning, Housing, and Infrastructure, Mohammed Aslam, expressed the government's eagerness to embrace innovative ideas. He assured full support and cooperation from the government in ensuring the success of this project. Although there has been speculation about a floating city in the Maldives for some time, actual progress had not yet commenced. However, the signing of the agreement has renewed hope that this ambitious endeavour will soon come to fruition.
The Villivaru Island Resort & Spa, the designated site for the project, is conveniently situated just a 30-minute boat ride away from the Velana International Airport. The establishment of this resort and the introduction of the floating water villas are anticipated to attract tourists seeking a unique and luxurious experience in the Maldives.