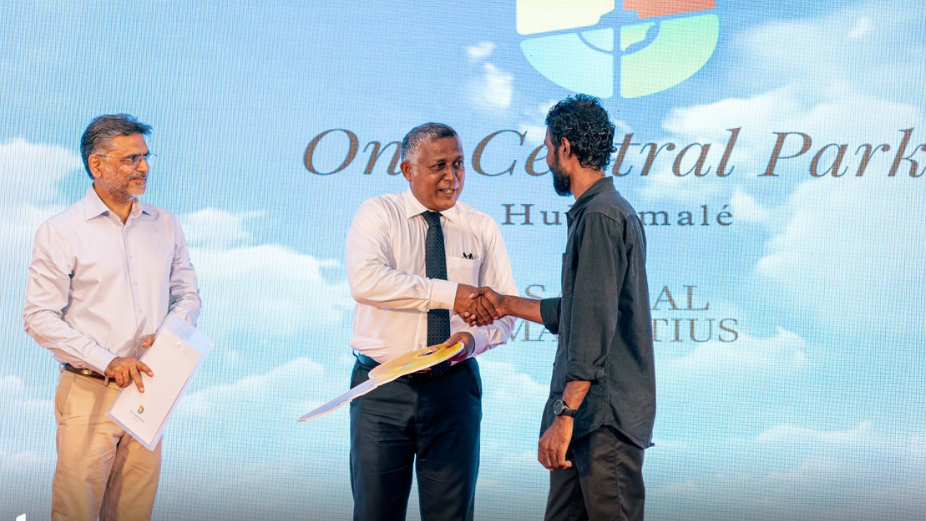 In an official ceremony held on Friday, the keys to the highly anticipated 'One Central Park Residence' in Hulhumale' Phase I were handed over to the buyers.
The event was attended by Housing Minister Mohammed Aslam and Neeraj Gupta, Managing Director of Sandal Mauritius.
Sandal Mauritius, the company awarded the project in 2016, entrusted Rasheed Carpentry and Construction (RCC) with the fieldwork. Construction activities for the project commenced on April 26, 2021.
The Magnificent One Central Park Residence boasts 120 flats, each featuring three bedrooms and a bathroom. In addition to the comfortable living spaces, residents will have access to a well-equipped gym, a children's play area, and an elegant entrance lobby. With a price tag of MVR 2.2 million per flat, the development aims to cater to the growing demand for quality housing in the region.
During the handover ceremony, Minister Aslam highlighted the government's commitment to addressing the housing needs of the middle class through similar initiatives. He expressed satisfaction that all 120 buyers of the apartments had completed their payments in full.
"As part of the lending agencies' terms, approximately MVR 20,800 is required to be paid by 80% of the borrowers," Aslam explained, emphasizing that a three-bedroom apartment of comparable quality would demand the same rental price in the market.
With its completion and the successful handover, the project brings the dream of homeownership to many individuals and families in Hulhumale'.