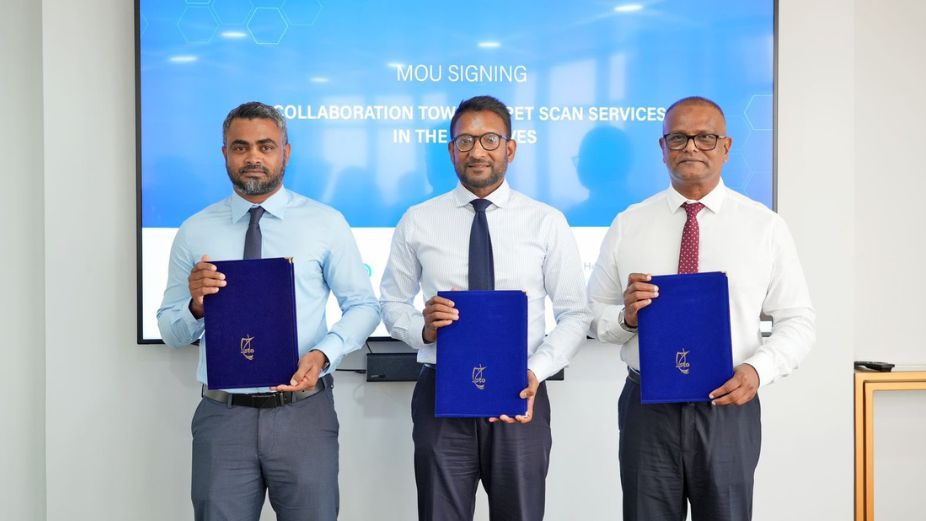 Indira Gandhi Memorial Hospital (IGMH) has recently entered into a Memorandum of Understanding (MoU) with the State Trading Organisation (STO) and the Ministry of Health in the Maldives. The purpose of this MoU is to facilitate the acquisition of the necessary machinery to establish Positron Emission Tomography (PET) scan services in the country.
The agreement was formalized through the signatures of Minister of State for Health, Shah Abdullah Mahir, Chief Executive Officer (CEO) of IGMH, Ibrahim Saleem, and General Manager at STO, Ahmed Nihad. As per the terms of the agreement, STO has been entrusted with the responsibility of procuring a PET scan machine, along with supplementary equipment, within a two-month timeframe to initiate the provision of services.
The Maldives has been witnessing a rise in the incidence of non-communicable diseases (NCDs), which currently account for 84% of all deaths, according to the health ministry. At present, Hulhumale' Hospital serves as the primary facility for cancer therapy services in the country, with over 1,200 registered cancer patients. Due to the absence of PET scan services locally, cancer patients have to travel abroad for diagnosis and treatment. PET scans play a crucial role in detecting cancer in the body and assessing its spread. Annually, more than 1,000 patients are sent overseas for cancer treatment.
The Ministry of Health has emphasized that the introduction of PET scan services at IGMH aims to reduce the substantial expenses incurred by both the public and the government when seeking this service abroad. The service will commence operations officially once the installation of the PET scan machine is completed.