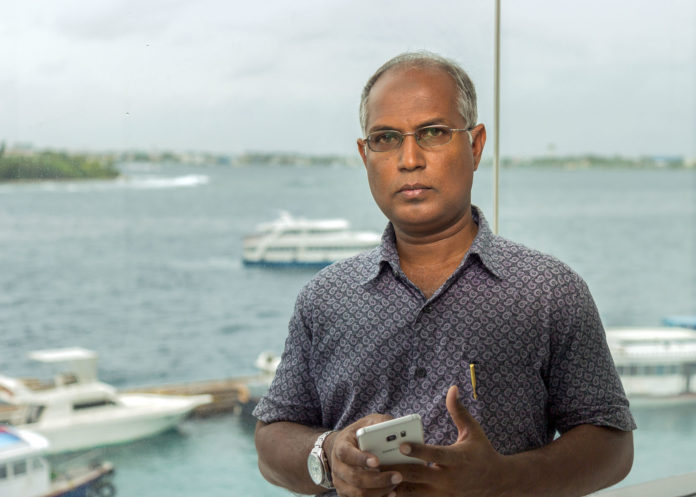 by Mohamed Khoorsheed
Al Shaali Marine Maldives Pvt Ltd is one of the leading manufacturers of boats and yachts in the Maldives. Al Shaali Marine is a joint venture between Al Shaali Marine Dubai and Coastline Investments Pvt Ltd, Maldives. Ismail Shareef, who has been working as Operations Manager at Al Shaali Marine for the past couple of years, talks to Corporate Maldives about the company and its future.
How did you get started at Al Shaali Marine?
I joined Al Shaali Marine just a few years back actually. Before that I worked in a number of places, but they were all experiences that contributed to getting where I am now. After finishing school, I first joined MWSC. Later I had just completed an engineering course at MIFCO when I was offered a job at Island Explorer, the biggest cruise liner in the Maldives at the time. I worked in the Front Office and even Accounts for more than two years while at Island Explorer. Two and a half years later Island Explorer stopped their operations because the boat had become very old and they couldn't keep up with the repairs it required. Next I got a job as the Launch Section Manager of Marine Operations at Velassaru, or Laguna Beach Resort, before changing to Meeru Island Resort & Spa as the Transport Manager. I worked at Meeru until 2009 or so and completed a Marine Engineering course at FET during that time. After Meeru I worked at Sultans of the Seas for more than a year when I was contacted by Al Shaali to join them. After discussing the offer with Al Shaali's Manager I was intrigued as I had never worked in manufacturing before and thought it would be interesting to see what kind of opportunities and challenges it would present for me. I joined Al Shaali in 2011 as Operations Manager and it has been a very interesting experience.
Tell us a little bit about Al Shaali and the major challenges for you when you joined.
Al Shaali was founded in 2006 and operations were based in Male' then. In 2003, the base of operations was turned over to Dubai and we now work directly under instructions from them. Al Shaali is one of the few companies in Maldives that manufactures fiberglass boats and our 50-feet boats are one of our most popular products. Many of the resorts in Maldives use boats manufactured by Al Shaali Marine. During the first years, the biggest challenge I felt was our lack of innovation in design. Although sales were good, I felt sales suffered a bit because of that. Al Shaali's "Interceptor", one of the most well-known products in our lineup, is a rear-boarding boat, but the competition was offering front-boarding boats at the time and our market share was directly affected. I feel that if we had kept up with the latest innovations in manufacturing technology and designs, we would have been able to compete. However, Al Shaali has recently started manufacturing 36-feet fiberglass boats that offer boarding from the front, so we're back in the running. Also there is more and more demand for bigger boats as the number of travelers are increasing every year. In Maldives, Al Shaali hasn't started manufacturing the really big boats yet, but we are gradually working towards it as we believe it's a prospective market. However, we don't do anything without doing proper research so we will have to review the market and see if it is viable in the long run before we commit to it.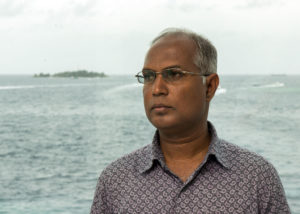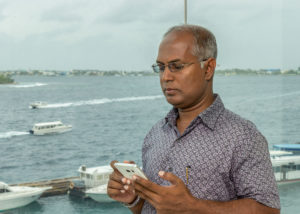 What do you think makes Al Shaali different from other similar companies?
The best thing about Al Shaali Marine is that it's a very flexible company when it comes to meeting customer requests. We are always open to new ideas and willing to do something that we've not done before. We try to incorporate customer's requirements into our designs as much as possible so that they will have exactly what they request from Al Shaali. We once built a 50-foot dhoni that was initially designed to hold a single engine and customized it to fit two engines just as the customer in Dubai had required. So you can see that at Al Shaali we take our customers' requirements very seriously.
Your biggest achievement?
I think the most notable achievement for us so far has been that we once manufactured and exported five vessels to international customers. Two of the boats were sold to a company in Seychelles and another two to our customers in Dubai. Seeing locally manufactured vessels like that being used internationally is very satisfying. Another time we had the chance to manufacture a few boats here at our boatyard for a client from Florida, USA. However, after a lot of discussion it became apparent that it wasn't a feasible option because the freight charges from here to Florida were just too high. They could buy two boats from America for the price it took to build one here and send it to Florida. I should note that another of our biggest achievements is that we gave local companies the chance to buy boats at competitive prices, since we broke the monopoly that had existed prior to that. Also since we gave the highest priority to quality, our competitors had to raise their standards in order to compete with us. It's a huge win for customers as they profit either way.
What does the future hold for Al Shaali?
In the next few years or so we expect to start manufacturing super-yachts in Maldives and export it to customers from all over the world. The biggest challenge is the lack of space and land for a boatyard, but we have planned ahead for this. The goal is for Al Shaali to become self-sufficient by then. We will only need to import the required materials from abroad. All the actual manufacturing work will be done right here in Maldives and we'll be able to offer our products at the best possible prices so local companies will no longer have to buy boats from abroad anymore. Of course, another obstacle for us is the lack of laws and regulations to oversee everything. So we will need the help of the Government for this to work in a sustainable way. They need to pass regulations or create bills to oversee and facilitate the growth of this industry. For example, there's no builder's code still, even though there has been a lot of talk about implementing one for a long time. There's also the problem of insurance. Or the lack of it, really. Despite all the challenges, I must say that we expect to be able to reach our major goals within the next decade.
As for myself, personally, I feel like I will still be working in this industry ten years down the line. I am looking forward to bringing new innovations and being there to help lead this industry into the future. I am hoping to be able to introduce new blood into this industry, maybe by providing training to those who are interested in this field, but the fact is that the current environment isn't actually that conducive to such things. We already do provide some amount of in-house training to our staff but we need to expand that to provide higher quality and a wider range of training to more people. We can't progress otherwise. This is something that I am personally interested in pursuing and I am aware that it will also take a considerable amount of time to research but I am looking forward to the challenge.