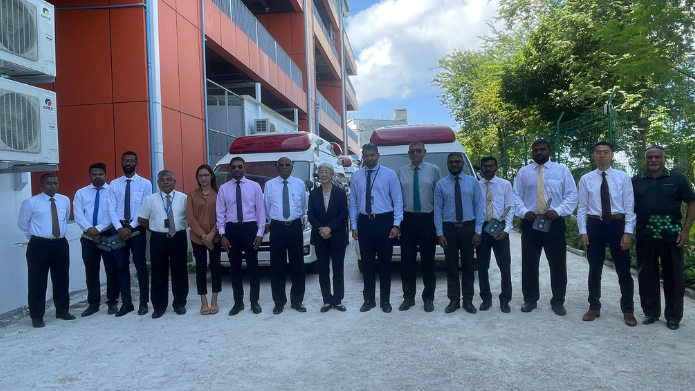 The Government of Japan officially hands over eight reconditioned ambulances to the Ministry of Health under the Grant Assistance for Grass-Roots Human Security Projects (GGP) scheme.
Her Excellency Mrs. Takeuchi Midori, Ambassador of Japan to Maldives officially handed over 8 reconditioned ambulances to His Excellency Ahmed Naseem, Minister of Health under the Grant Assistance for Grass-Roots Human Security Project at a ceremony held at Orange Hiya Building in Hulhumalé.
This assistance is in line with the Grant Contract signed between the Embassy of Japan in Maldives and the Ministry of Health on February 7, 2022. Under the grant, the Government of Japan signed to donate 8 reconditioned ambulances supplied from Japan with 8 sets of 12 medical equipment such as ALS bag, oxygen cylinder, bag valve mask, and spinal board in value of USD One Hundred and Fifty Nine Thousand and Hundred and Thirty One (USD 159,131).
The Ministry will deploy 2 ambulances to Hulhumalé and each to 6 local islands, HA. Horafushi, HA. Kelaa, HDh. Kulhudhuffushi, L. Gan, Gn. Fuvahmulah, and S. Hithadhoo. This assistance will complement the efforts of the Government of Maldives to strengthen the response of the health system in emergencies.
In October 2019, the Government of Japan handed over 21 ambulances with a value of USD 1.4 million to the Ministry of Health and the ambulances were allocated to 21 islands across 15 atolls. This donation was implemented as a part of the grant of 300 million Japanese Yen (equivalent to USD 2.8 million) committed to the Health Sector of the Maldives, in line with the Exchange of Notes signed by the Government of Japan and the Government of Maldives in June 2018, under "The Economic and Social Development Programme".
The GGP is part of the Japanese Official Development Assistance (ODA) implemented by the Embassy of Japan in Maldives in order to empower people at the grassroots level. Since 1996, the GGP has been implemented in broad areas such as education, environment, health, transportation and energy in order to contribute to the sustainable development of the Maldives.