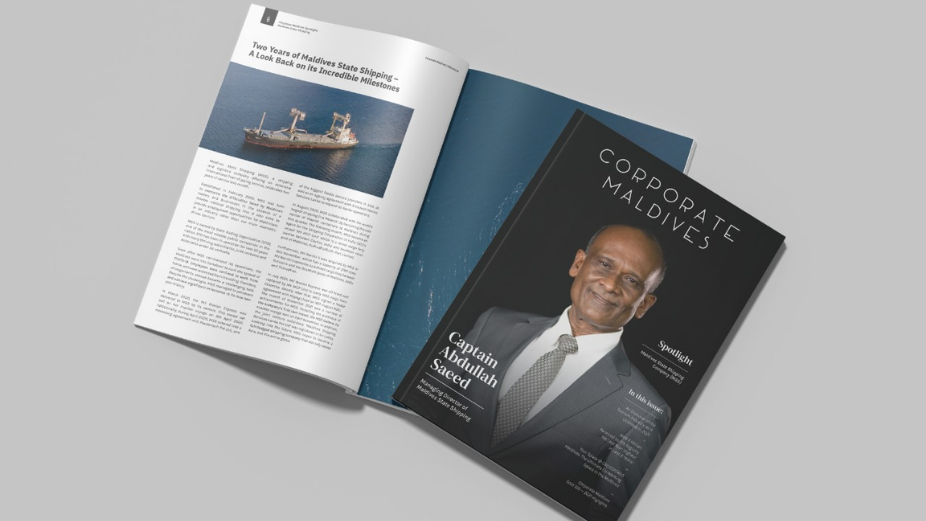 Corporate Maldives has published the latest edition of the 'Corporate Maldives Magazine', a bi-monthly print publication dedicated entirely to the business community of the Maldives.
In the February 2022 edition, the Corporate Maldives Spotlight is on Maldives State Shipping (MSS), a new shipping and logistics company that operates under the umbrella of State Trading Organization. As part of Corporate Maldives Spotlight, we highlight how MSS has evolved over the last two years, its ambitious maritime training programmes, and its extensive, growing fleet. We also sat down to have a chat with Captain Abdullah Saeed, the Managing Director of MSS, to gain further insight into the company.
Under the People segment, we take a look at the careers of Hassan Mughnee, the Managing Director of STELCO, and Shahid Ali, the CEO of Maldives Ports Limited. We also bring you the story of a young professional, Mishal Didi, the Managing Director of SIMDI Group, as well as that of Haroon Rasheed, the Managing Director of Agro National Corporation.
As usual, the news segments touch on various industries and business sectors of the Maldives, including tourism, construction, banking, technology, trade, fisheries and agriculture, among many others. To wrap up, the magazine showcases highlights from the Corporate Maldives Gold 100 Gala 2021, an invitation-only networking event bringing together the top executives of the Maldivian business community.
Corporate Maldives will be releasing a print version and an online version of the magazine with each publication. To view the latest edition of the magazine, visit this link.