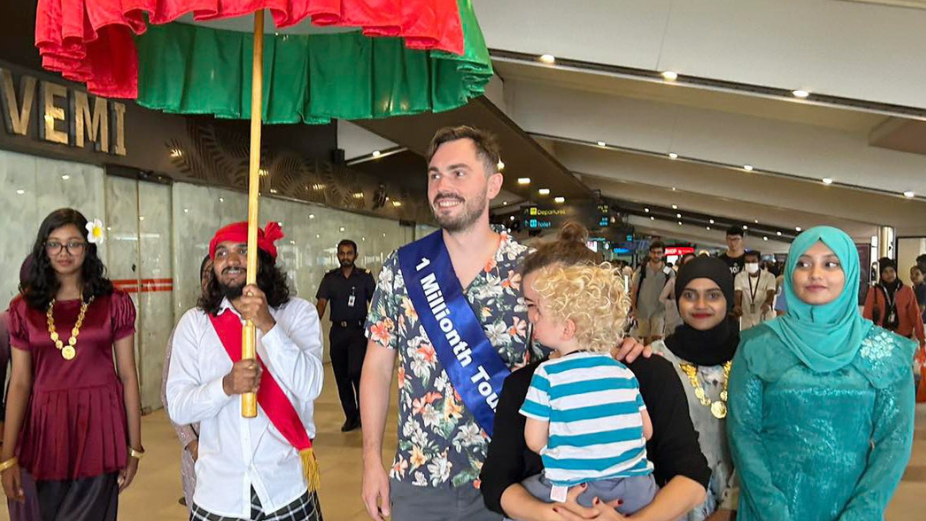 The Maldives has reached a significant milestone in its tourism sector today, officially welcoming the 1 millionth tourist for the year 2023.
Anton Pavlov had the honour of being recognized as the one-millionth tourist to arrive in the Maldives this year. Warmly received at Velana International Airport (VIA), he was greeted by esteemed officials from the Ministry of Tourism, Maldives Marketing and Public Relations Corporation (MMPRC), Maldives Airports Company Limited (MACL), Maldives Association of Tourism Industry (MATI), National Boating Association of Maldives (NBAM) and Maldives Immigration
The Tourism Ministry had initially projected to achieve this remarkable feat in July; however, the country has surpassed all expectations, successfully achieving this milestone ahead of schedule.
Amidst this resounding success, the government's ambitious target to attract 1.8 million tourists in 2023 now appears more attainable than ever before. With a steady influx of tourists arriving daily and the anticipated surge during the peak tourism season in November and December, the outlook is highly promising. There is a strong indication that not only will the target be met, but there is also potential to surpass it, marking a truly exceptional year for the Maldives' tourism industry.