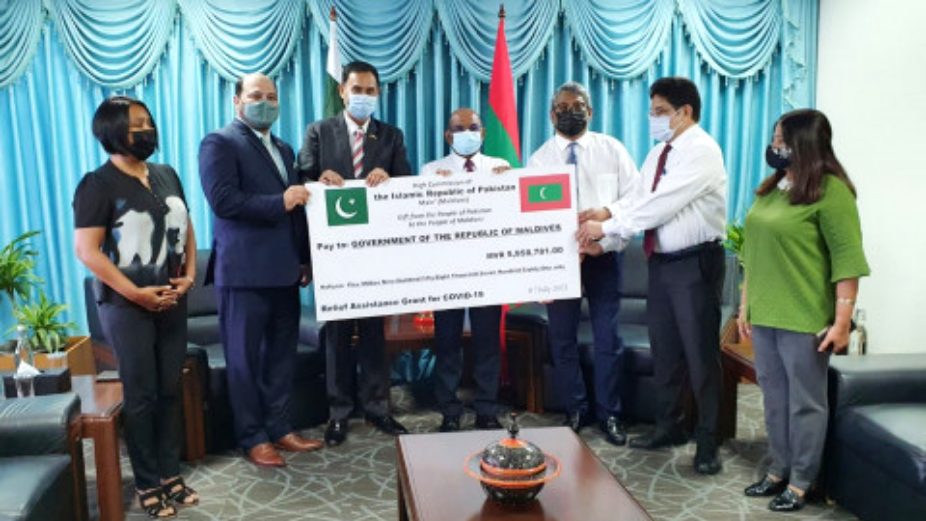 The Government of Pakistan has donated MVR 5,958,781.44 (USD 386,432) to the Government of Maldives, to assist in its Covid-19 response and recovery efforts.
A cheque symbolising the grant was handed over to Foreign Minister Shahid by High Commissioner of Pakistan, Vice Admiral Ather Mukhtar at a meeting held at the Ministry of Foreign Affairs today.
The contribution was made by Pakistan through the SAARC COVID-19 Emergency Fund, established in March 2020 during a virtual summit of the SAARC Heads of States and Governments, held in response to the global coronavirus pandemic. The Emergency Fund is financed by voluntary contributions from all SAARC countries. The initiative seeks to address the challenges and mitigate the risks associated with the coronavirus pandemic in the South Asian region.
On behalf of President Ibrahim Mohamed Solih, the Government and people of Maldives Minister Shahid extended sincere gratitude to Prime Minister Imran Khan, the Government and the people of Pakistan for the generous financial support. Minister Shahid noted this gesture demonstrates the special regard and consideration Pakistan accords to Maldives.
Pakistan continues to be a key development partner to the Maldives in multiple spheres. The aid handed over today marks yet another important milestone in the Maldives-Pakistan relations, and contributes towards further strengthening the close fraternal relations between the two countries.