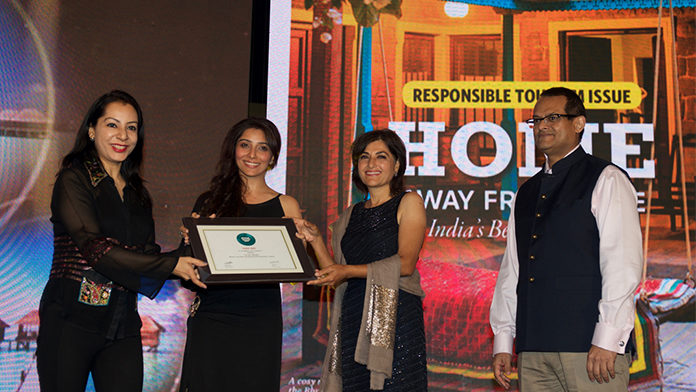 Maldives has won the Outlook Traveler Awards 2017's award for Reader's choice – Best International Island Destination.
This year was the 10th edition of the annual awards and was celebrated with a colorful ceremony held at Roseate House in Delhi's Aerocity. The awards were divided into three different categories – 15 Jury awards, two Editor's choice awards, and 11 Reader's Choice awards. Dr. Jai Madaan (Hon.) presented the award and Shikha Mishra, Country Manager for Maldives accepted the award.
Outlook Traveler is India's No. 1 Travel Magazine and Website and our Getaway Guides are the best guidebooks in India. For over 15 years and 175 issues, Outlook Traveler has been bringing the best of India and the world to their loyal and discerning readers.
According to MMPRC, the Indian outbound market is one of the fastest growing markets in the recent years, from 13 million in 2010 to 19.4 million within the next five years. The number of Indian tourists to Maldives grew by 27.9% by the end of 2016.