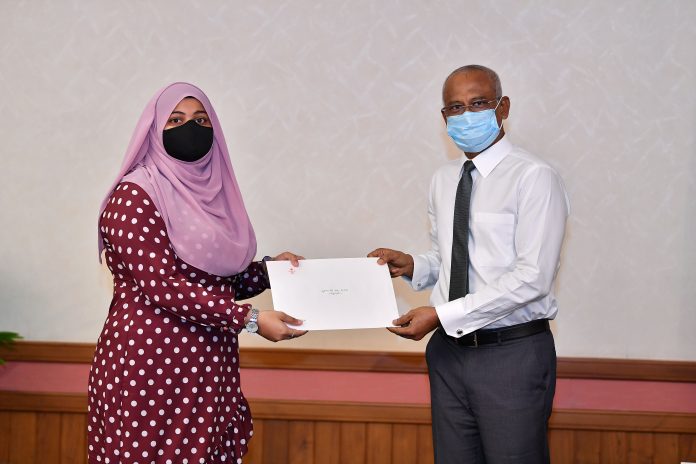 President Ibrahim Mohamed Solih made an appeal to the nation's young, to make full use of the opportunities available to them. He expressed these sentiments while delivering remarks at a ceremony held at the President's Office to award 'the President's Scholarships' to students that were 'Top Achievers' in last year's academic examinations.
President Solih presented the scholarships to seven students who achieved exceptional results in examinations held in 2019. They included five students from the Centre for Higher Secondary Education (CHSE), who received A+ scores in GCE A levels; and two students from Madhrasathul Arabiyyathul Islamiyya, who received A+ scores in the Shahadha Saanaviyya exams.
While delivering remarks, President Ibrahim Mohamed Solih urged all students to strive to become responsible and productive members of the Maldives' society. He emphasized that the purpose of awarding these scholarships is to help build successively stronger generations that will contribute to the nation's progress.
The President highlighted that the economic challenges confronting the country because of Covid-19 are unprecedented. In light of this, he emphasized that the country's economic recovery will be heavily dependent on its workforce. He spoke on the particular importance of increasing the number of Maldivians across the country's professional sectors.
Continuing his remarks, President Solih highlighted the Government's numerous efforts to enhance professional opportunities for the youth by giving them a strong academic foundation. This includes the introduction of a free education scheme for first time prospective undergraduate students and restructuring student loan schemes, so that they are offered at low-interest rates. The President noted that a total of 54 students who achieved Presidential Scholarships and 117 students who received the High Achievers' Scholarship are currently studying in seven different countries.
President Solih congratulated this year's scholarship winners and acknowledged their hard work. He encouraged the students to strive for further excellence, and thanked the students' parents and teachers for their crucial supporting role.