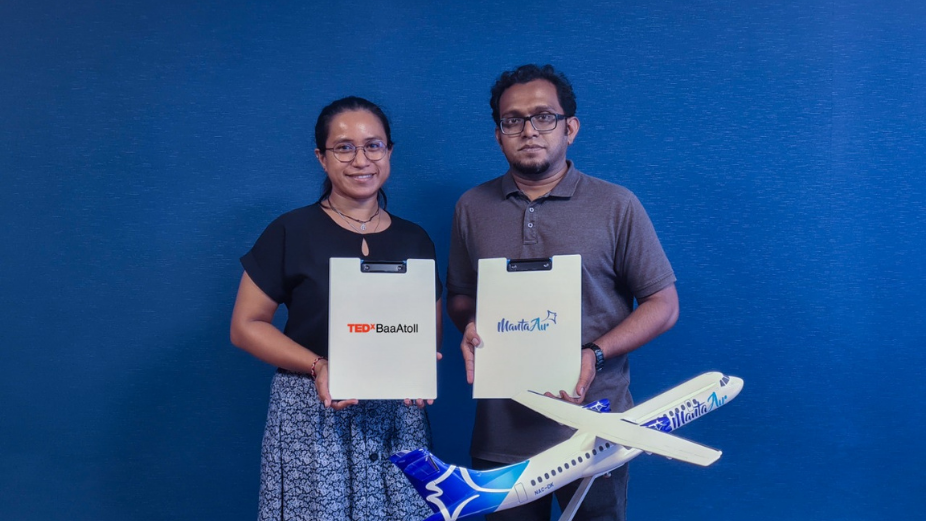 Manta Air and the organizers of TEDxBaaAtoll, jointly announced today that both parties have agreed to welcome Manta Air as the travel partner for the first ever TEDx event hosted in the Maldives, TEDxBaaAtoll.
The TEDxBaaAtoll hosted under the theme "The Slow Life" will be held at the beautiful island of Kunfunadhoo on the 19th of March 2022. The event will feature a series of renowned local and international speakers including Sonu Shivdasani, Yala Shameem, Carissa Nimah, Hussain Rashid (Sendi), Aishath Adnan, Bruce Bromley, Shaziya 'Saazu' Saeed, Akib Jahir and Malsa Maaz.
TEDxBaaAtoll is an independently organized TED event under license from TED.com. Azhoora Ahmed, The TEDxBaaAtoll licensee said: "We are excited to have TEDx conference come to the Maldives, to celebrate the unique ideas and experiences from the Maldives."
Mohamed Khaleel, CEO of Manta Air, said: "Manta Air strongly believes in engaging and partnering with community events and are keen to support such transformational undertakings. Given TEDxBaaAtoll is the very first TEDx event in the Maldives, we are delighted to have had the opportunity to be a part of it."
TEDx is a grassroots initiative, created in the spirit of TED's overall mission to research and discover "ideas worth spreading." TEDx brings the spirit of TED to local communities around the globe through TEDx events. These events are organized by passionate individuals who seek to uncover new ideas and to share the latest research in their local areas that spark conversations in their communities Manta Air, is seen as the game-changer in the skies of Maldives. Manta Air has become famous for providing the first on-time scheduled service in the Maldives where passengers have finally let go of their worry for last minute surprises and is known for providing a top notch five-star experience for all its guests which has also impacted the airline industry.
For more details on the event, visit https://tedxbaaatoll.com