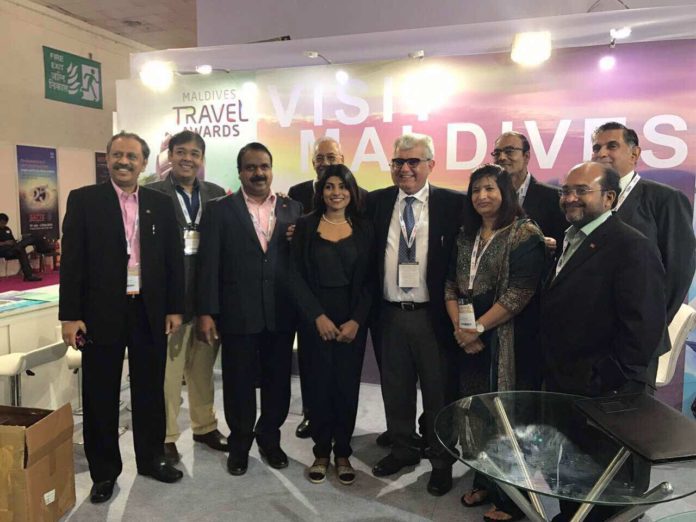 Maldives Association of Travel Agents and Tour Operators, MATATO signs a MoU with, one of the leading travel organizations in India, Travel Agents Federation of India, TAFI, to extend cooperation in joint marketing and networking efforts that promote travel trade between the two countries. The MoU was signed today, on 16th February 2017, by Vice President of TAFI Mr. Pradeep Lula and Deputy Secretary General of MATATO Ms. Asra Naseem, during a special function hosted in Maldives pavilion at the South Asian Travel and Trade Exhibition, SATTE.
This MoU will allow the two organizations to combine resources to further extend marketing and networking activities and also share market data and research that will help further improve marketing strategies. Under this agreement, support will also be shared, through collaborations and endorsement to develop and promote the existing programs and products of the two organizations.
The Travel Agents Federation of India (TAFI) was established in 1986. It is a dynamic organization that guides the travel industry in India. It is a professional body of Travel Agents coordinating different segments of the travel trade and is a non-political, non-commercial and not-for-profit body. TAFI's membership today comprises of 1400 Active, Associate, Allied and Affiliate (Travel Service Intermediaries – Non IATA) members from all over India. Over 70% of the ticketing business is handled by TAFI members. TAFI represents the travel trade before official bodies of Government, Airlines and other appropriate forums. TAFI augments the development of the travel industry in India by encouraging improvement in the standard of service, inculcating professionalism and spreading awareness and updated information on travel and regulations.
India is one of the largest and a promisingly potential source market for Maldives, and MATATO believes that partnership with TAFI will allow the two organizations to work together to create business opportunities and contribute to growth of travel figures. This also represents a significant achievement in our efforts to increase engagement with regional and international organizations, which we believe will help further strengthen our programs for industry development and destination marketing. In 2016 MATATO signed a similar agreement with Pacific Asia Tourism Association PATA.
SATTE that kicked off on 15th February 2017, in Pragati Maidan, Delhi, India will come to a close on Friday. MATATO is hosting a destination stand at this exhibition with more than 15 Maldivian Travel companies, compromising a delegation of 20 representatives. This is the second International travel Exhibition in 2017, that MATATO is leading the destination to, with two more exhibitions, Riyadh Travel Fair and WTM connect, scheduled to April and May respectively. MATATO takes pride in our efforts to market the destination abroad, by providing Maldivian companies with opportunity to build their business network in leading and emerging international markets, which we believe will strongly contribute to the growth tourist arrivals to Maldives.