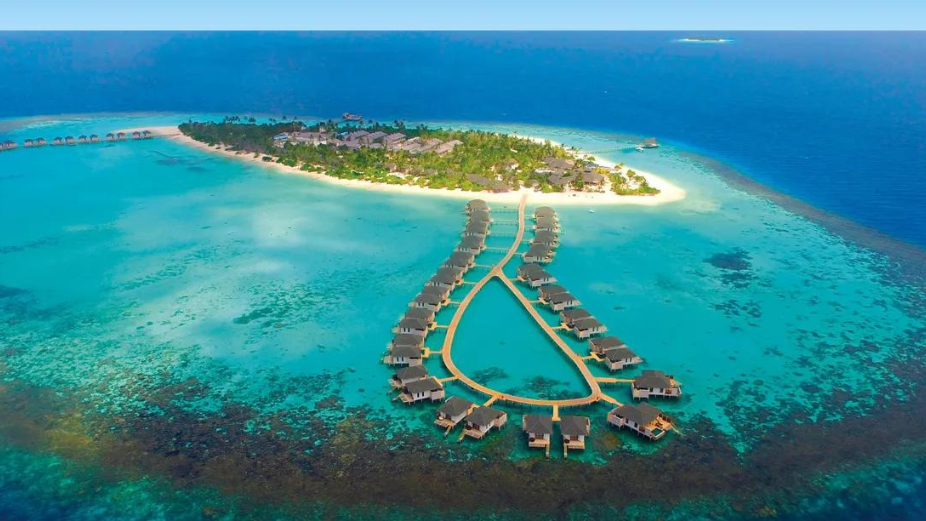 JLL announced it advised on the successful sale of Amari Havodda Maldives to Minor International Public Company Limited ("MINT"), a leading global hospitality and lifestyle conglomerate, and its financial partner, Abu Dhabi Fund for Development ("ADFD"). This transaction marks the first hotel sale in the Maldives for 2023, with JLL's Hotels & Hospitality Group advising Crystal Plaza Resorts on the sale to the MINT and ADFD consortium.
Amari Havodda Maldives is located in Gaafu Dhaalu Atoll in the southern region of the archipelago and is accessible via a 55-minute flight from Velana International Airport to Kaadhedhoo Domestic Airport. The resort provides guests with 120 well-appointed villas as well as one of the largest infinity pools in the Maldives, complemented by architectural detailing and interiors by French designer Isabelle Miaja.
"The long-term confidence in the Maldives hotels space has again been reinforced through this groundbreaking transaction, which was successfully completed amidst a backdrop of ongoing macroeconomic headwinds and rising rates. Investor interest in this unique asset was exceptional, demonstrating that a broad cross-section of capital from Asia Pacific to the Middle East will continue to seek opportunities in one of the world's most attractive hospitality markets. We are delighted to have advised on the first Maldives hotel transaction of 2023 and further solidified our standing as investors' unrivaled choice of investment advisory in the Indian Ocean and beyond," says Nihat Ercan, Chief Executive Officer, Asia Pacific, JLL Hotels & Hospitality Group.
The Amari Havodda will be integrated into MINT's existing portfolio of six properties in the Maldives. Furthermore, the Thailand-based conglomerate will be rebranding this asset into an NH collection hotel, a well-established hospitality brand in Europe and the Americas. The rebranded Amari Havodda will serve as the first NH collection property in the Indian Ocean and Asia.
"This transaction highlights strong investor appetite for quality and established resorts with healthy cashflow as well as additional value add angles. Furthermore, the strategic investment by ADFD in this highly sought asset reinforces the Maldives' position as a major capital destination for the world's most active institutional investors," says Julien Naouri, Senior Vice President, Investment Sales Asia, JLL Hotels & Hospitality Group.
According to the Maldives' Ministry of Tourism, the country now operates over registered 160 resorts with approximately 40,000 beds, and 12 hotels with more than 1,500 beds operating as of December 2022. Approximately 1,450 new rooms are expected to open between 2023 and 2025, mainly in the midscale segment. On the luxury segment, notable upcoming openings include the Six Senses Kanuhura, Capella Maldives and Bulgari Resort Ranfushi.
"The Maldives has remained a resilient destination that has offset a pandemic-induced slump with a strong recovery in international visitor arrivals. The country's hospitality sector continues to fire on all cylinders with visitor arrivals on par with 2019 levels, further cementing the island nation's position as a global gateway resort destination," says Isabel Wong, Senior Associate, Investment Sales Asia, JLL Hotels & Hospitality Group.