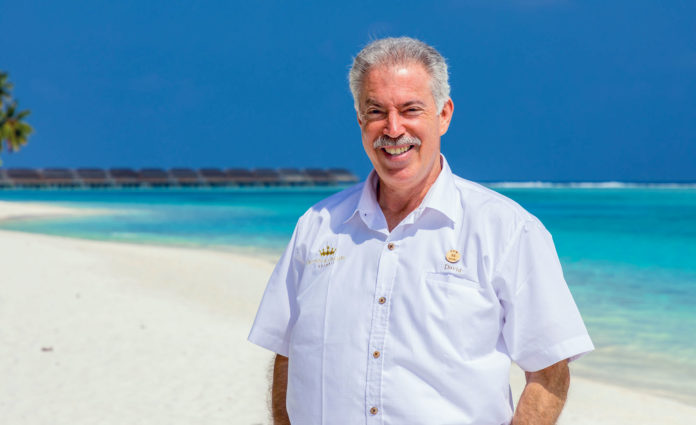 by Ruba Ali
David S. Feinberg has been the Chief Executive Officer of Crown & Champa Resorts (CCR) for the past 16 years. With 6 resorts and 1 city hotel, CCR is one of the largest, most prestigious and most successful companies in the country.
A true veteran of the hospitality field, David describes himself as a hotel guy, and has worked in various positions in the tourism industry all over the globe. Corporate Maldives sat down with David to talk about why he finally settled down in the Maldives for so long, what makes CCR so different, and his hopes and plans for the future.
How did you get started in the Hospitality Industry?
My career path in the hospitality industry is perhaps not a traditional one. I came in through a side door. Originally I worked in the dive business; I put myself through University by becoming a dive Instructor and managing a few dive shops in Austin, Texas, where I attended University.
My stepfather was interested in the dive safari business in central America. He purchased, renovated and began operating a dive safari boat. It sailed between Cozumel and the Bay Islands of Honduras, and I was the Divemaster during that time. This is where I discovered the simple pleasures of island living, and that made a strong impression on me.
After University, I found a job at the Houston Marriott Astrodome Hotel, Texas (as a Restaurant Manager in a family style restaurant) where I worked for a while to get a feel of the industry, and then I went out on my own. In this industry, to gain experience and knowledge you have to move around a bit. Maldives is, I think, the 13th country that I have worked in during the past 40 years.
What's different about working in the Maldivian hospitality business as compared to other countries?
One of the main reasons why I stayed here is because of the people. As much as we are all alike, we are all different. It's important to work for, and with, good people.
What I've found in the Maldives is that the people are so amazing. You can build an expensive hotel and attract guests, but at Maldives, here at our Resorts, we average 20% repeaters which is relatively huge. People come back because they feel comfortable, and it's more than the bricks and mortar, it's the people that make it special. That's something you can't really train. You can't train heartfelt warmth and friendliness, that has to come from everything you are. And that, I think, might be the reason why guests return, and also why I enjoy working here in Maldives.
What do you feel is your greatest success?
The Directors of Crown and Champa Resorts hired me with the goal of achieving a better business performance. I think we've accomplished that goal, over the years. Of course we can always do better! And what I've enjoyed is really the teamwork. For me, it's a great position to be in. We all bring a different background and skillset to the table, and that makes the team work well. Success is all about good balance.
We have a Corporate Training and Development Department, with a few senior Managers, and a Resident Trainer at each Resort. We have a variety of skill and job related training programs. When a new employee comes to work, we provide and require them to take and pass certain courses like communications, guest relations, and other basic fundamental hospitality training during their 90-day probation period.
After that, we teach the basics of supervisory skills and management; it's like an in-house university. We also support e-learning. We subsidize employees' e-learning, and each CCR resort sponsors 10-20 staff (or more from larger CCR resorts) to attend vocational-oriented courses in Male'. This includes everything from 3 month to 3 year courses. We also send employees overseas to earn Undergraduate Degrees. We've trained over 100 staff this way now.
In life, what you give, you get back. This is our philosophy.
What are some of the biggest challenges that you've faced during your career?
What makes Maldives unique as a destination also has created a situation where many Maldivians have found themselves relatively separated and isolated from the rest of the world. If you are born and raised in an island with limited resources and you are called upon, ultimately, to serve guests who come from all over the world, somehow the two realities have to meet.
The goal is to train Maldivian staff to best serve foreign guests. If one's schooling hasn't prepared one for the challenges of this industry, then it's the role of the employer to provide that kind of training. I think over the years, one of the greatest success that Crown & Champa Resorts have enjoyed is the vision of the Directors who want to share and give back what they have acquired over the years and train the Maldivian staff, all the staff, so they can pursue a successful career path in the hospitality industry.
How is your Company different from other companies?
We're successful financially, our staff are happy, the Directors have a vision, and as you walk around our properties you will see the staff are treated well in terms of housing, food, recreation, educational facilities and just basic respect! This has created an environment which leads people to want to work here.
What makes CCR unique is that a lot of the success we've achieved comes down to the individuals. Our greatest resources are ourselves. Bringing people together of diverse backgrounds and skillsets, embracing good communications, listening, and growing together; I think that's our greatest strength and our greatest success.
What is your vision for the future?
When I look to the future, and I think of the Maldives, I must think that we are all in the same boat. We have to think of the Maldives first, and what it takes for the Maldives, as a destination, to do well. We're all part of the same crew on this boat. We can't separate ourselves from it and survive.
So what is in store for the Maldives in the future?
Change, for one thing. Guesthouses, the new international airport in the south, new rooms, new resorts, new safaris. Everything is more, more, more, and to support more, we need more guests. And that's the challenge.
To attract more guests, to compete, the product must change. We have to continue to improve the air service, although its already extraordinary. The markets are shifting and we have to keep that in mind. We have to offer more value for money, which is the watchword for our Company. We have to keep training staff to maintain the standard of service that we have right now.
If we can continue to do all these things, I think the future is bright.
What is your advice for those looking to succeed in the hospitality industry?
No matter what profession or field of interest one chooses to pursue, there is no substitute for experience and knowledge. I've moved around and worked with different groups of people, I would say the more exposure you give yourself the better off you are.
We always encourage our Managers to follow a traditional hotel career path, which means to work in different Departments and learn all aspects of the business from the ground up. Then, you are in a better position to supervise, guide and train other people. The best resource you have are your people, and motivating and retaining your staff is the most important thing.
So work hard, and remember that good things come to good people.