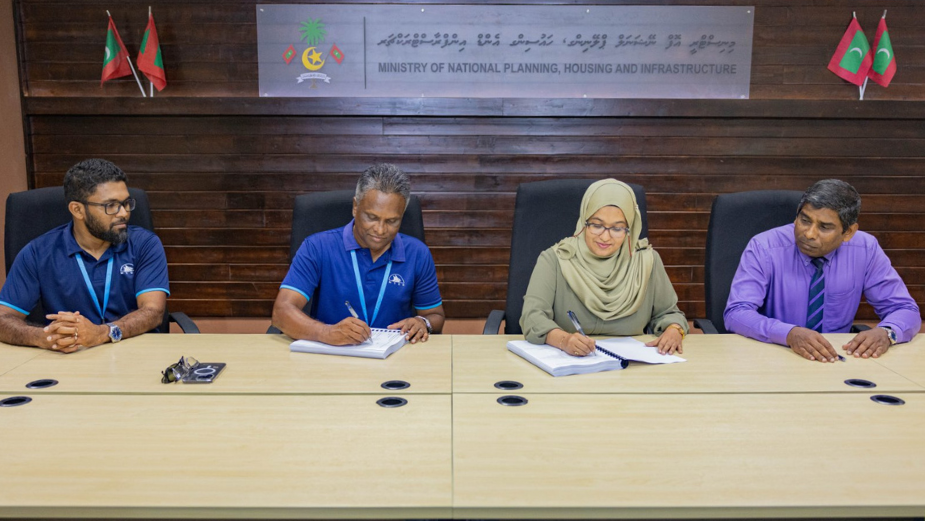 Maldives Transport and Contracting Company (MTCC) has inked agreements with the Ministry of National Planning, Housing and Infrastructure for development projects across five distinct islands —L. Maavah, Dh. Maaenboodhoo, ADh. Mahibadhoo, Gn. Fuvahmulah and AA. Ukulhas.
MTCC's CEO, Adam Azim, and the Ministry's Director-General, Fathimath Shaana Farooq, signed the agreements.
The agreements broker a future of dynamic expansion and development starting with the L. Maavah Land Reclamation Project. The project's scope includes a sand search survey and reclamation operations spread across 15 hectares, with an assigned budget of MVR 61.46 million.
The signing also green-lights the Dh. Maaenboodhoo Land Reclamation Project, which will cover a similar scope of operations to its L. Maavah counterpart. This project, which encompasses another 15 hectares of land reclamation, has been allocated a budget of MVR 76.76 million.
The ADh. Mahibadhoo Land Reclamation Project spans 7 hectares of sand search survey and reclamation operations, the project comes with a budget of MVR 40.43 million.
The next project on the slate is the Gn. Fuvahmulah Road Development Project (Phase 2). As part of this project, a stormwater management system, 650 cable junction boxes, tree pits, 71,164 square meters of asphalt carriageway, 633 streetlights, road markings, zebra crossings, and speed breakers will be installed. This expansive project carries the largest budget of the lot, totalling MVR 236.30 million.
The agreement heralds the commencement of the AA. Ukulhas Shore Protection Project. This project's scope involves the construction of a 650m breakwater, a 50m groyne, a 40m sand-filled groyne, and the completion of 40,005 cubic meters of beach-filling operations. The budget for this crucial shoreline protection project is set at MVR 25.96 million.