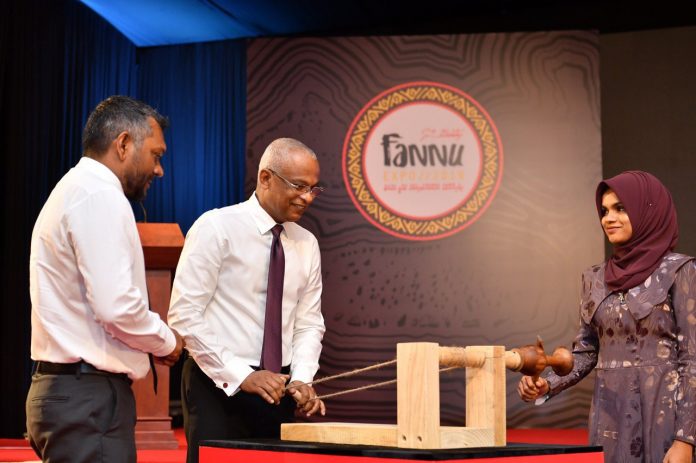 President Ibrahim Mohamed Solih has revealed that MVR 450 million is allocated in the 2020 State Budget for the development of Small and Medium Enterprises (SMEs). He made the remarks in his address at the inauguration of the national arts and crafts exhibition 'Fannu Expo 2019.'
Speaking about the capacity of SMEs in national economic development, President Solih recalled the administration's establishment of the SME Development Finance Corporation (SDFC) during its first 100 days in office, entrusted with providing financial products and ancillary services to SMEs and entrepreneurial start-ups.
He noted that since the formation of SDFC on 18 March 2019, it had received proposals worth MVR1.3 billion. The bank has since approved requests worth MVR 233 million and has provided financial assistance to a significant number of business ventures. Highlighting that 93 percent of business enterprises operating in the country were SMEs, President Solih said that the administration targets to provide financial aid worth MVR 450 million to SMEs through SDFC next year.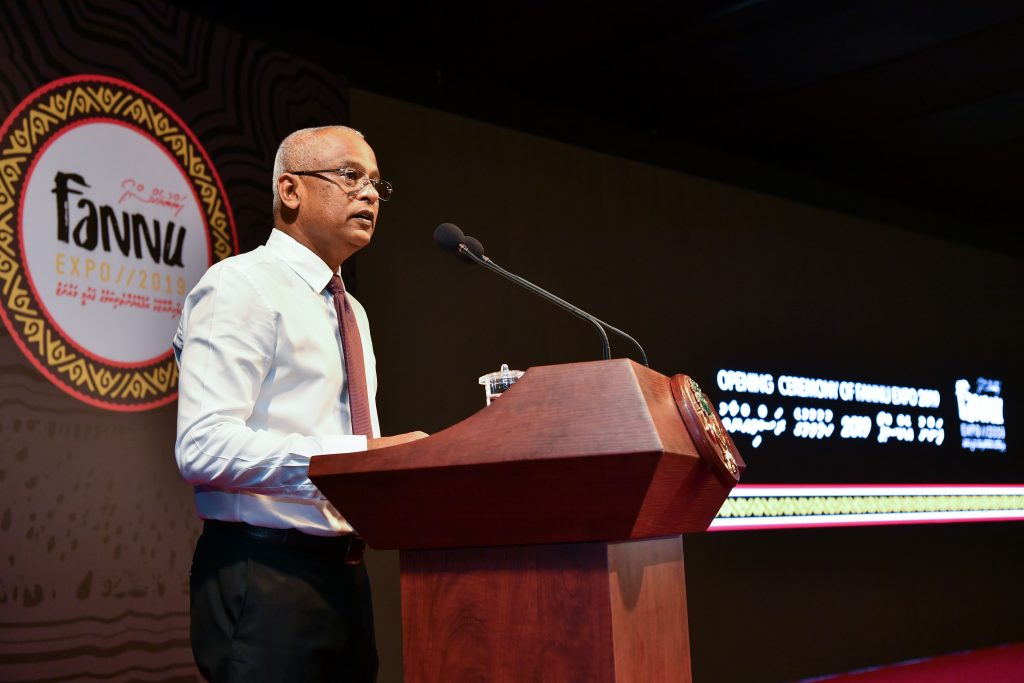 Speaking about the national arts and crafts exhibition, President Solih stressed on the importance of promoting creative arts and craftsmanship within the Maldives. Fannu Expo 2019 features artistic and creative exhibits in 78 categories and President Solih noted that this number is a testament to the rich heritage, diverse culture and authentic traditions of the Maldives.
Highlighting the need for reinforced efforts to promote Maldivian workmanship, President Solih emphasized that one of the main functions of the exhibition is to bridge artists and artisans with potential buyers. He further outlined the administration's efforts to foster such business enterprises, especially for the growth of women entrepreneurship.
During the ceremony, President Solih presented certificates and awards to the top five products showcased at the exhibition. He was also presented with a copy of the 'Fannu Expo 2019' music CD. Vice President Faisal Naseem handed over certificates and awards to the top winners in six categories.
The seven-day exhibition, organized by the Ministry of Economic Development, will run from 22-28 November in Dharubaaruge, Kalaafaanu School and the Children's Park. A venue to showcase and market creative arts and craftsmanship, the exhibition is one of the largest events held in the country so far, showcasing the talents of over 350 participants and over 30,000 products. 
Categories of the exhibits include handicraft, fisheries, transportation, construction, culinary arts, literature, fashion and design, and Information and Communication Technologies. It would also feature Fannu Expo Business Hub under the theme 'ICT as a driver of Economic Growth.'