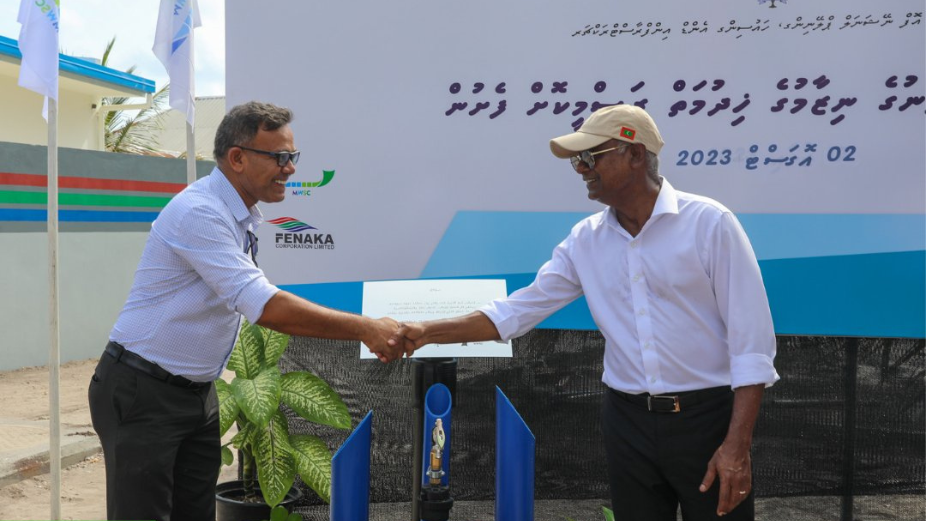 The Male Water and Sewerage Company (MWSC) has announced the completion of a comprehensive water supply network in H. Muraidhoo, marking the achievement with an inauguration ceremony yesterday that was graced by President Ibrahim Mohamed Solih.
The event was attended by prominent figures, including Hassan Shaah, the Managing Director of MWSC, state ministers, senior officials of Fenaka Corporation, and the employees of the respective companies. Also present were the residents of Muraidhoo, who are the primary beneficiaries of this development.
Under this project, a dedicated facility building to house a water plant has been constructed in Muraidhoo. The main water pipe has been put in place, and residential water connections have been established.
In an effort to ensure sustained water supply, the project also incorporates the setup of water plants for water generation, excavation of boreholes, and the construction of reject lines. Water storage tanks have also been installed as part of the network. Additionally, the project includes provisions for water testing equipment to monitor and ensure the quality of the water supply.
The initiative was entrusted to MWSC by the Ministry of National Planning, Housing, and Infrastructure. The project, with a total expenditure of MVR 46.85 million, aims to provide the residents of Muraidhoo with reliable access to clean drinking water.