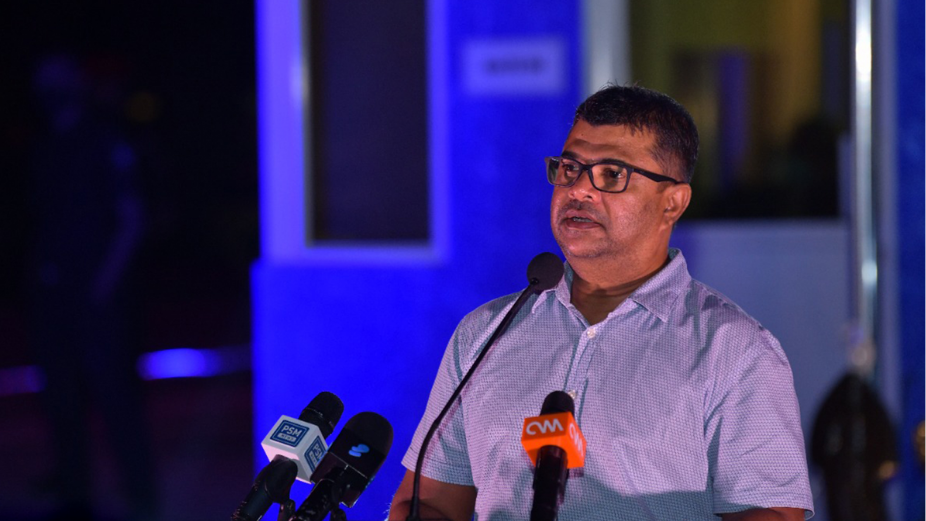 The new security building for Hulhumale' International Terminal was inaugurated by Maldives Ports Limited (MPL) last night.  During the special ceremony held at the Hulhumale' Port, this building was opened by the CEO of MPL, Shahid Ali.
The building was inaugurated to further strengthen the security and cargo handling operations to meet the growing demand. It was a colourful display at the Hulhumalé terminal with the fleet of vehicles lineup.
Other notable attendees included Commissioner General of Customs, Abdulla Shareef, Managing Director of Housing Development Corporation (HDC), Suhail Ahmed and Parliament Member of Hulhumale', Ali Niyaz.
The terminal is pivotal in maintaining a smooth flow of cargo to prevent container congestion at Male' Commercial Harbor. It plays an important role in catering to the economic activities and growth resulting from the urban development and housing projects currently under development on Hulhumalé Island. It has been operational since 2013 and consists of international and local terminals owned and operated by MPL.
During the ceremony, the HOD of MPL Hulhumale' International Terminal, Ibrahim Rasheed, stated that the opening of this new building will lead to the expansion of services provided. He also stated that their hard work in the last two years has led to the extension of the bond to bond keepers and a specific building for Customs has been established. With major changes brought to the Hulhumale' Terminal, the area is fully paved as well.
Shahid Ali further said that due to the number of projects carried out by the government as well as individuals, the demand for the terminal has been high. Increasing demand also led to the development and expansion of services provided at the terminal. Concerns regarding the services provided by the public were taken into account during the development of this terminal.
He also highlighted that additional container handling equipment for the terminal is needed even now. Better working environment for all the employees are crucial and Customs along with other departments have more requirements too. Along with that, the absence of designated office space for MPL employees was mentioned. In response to this lack of space, the Managing Director of HDC, Suhail Ahmed stated that more land will be provided neighbouring the terminal to build the MPL office.