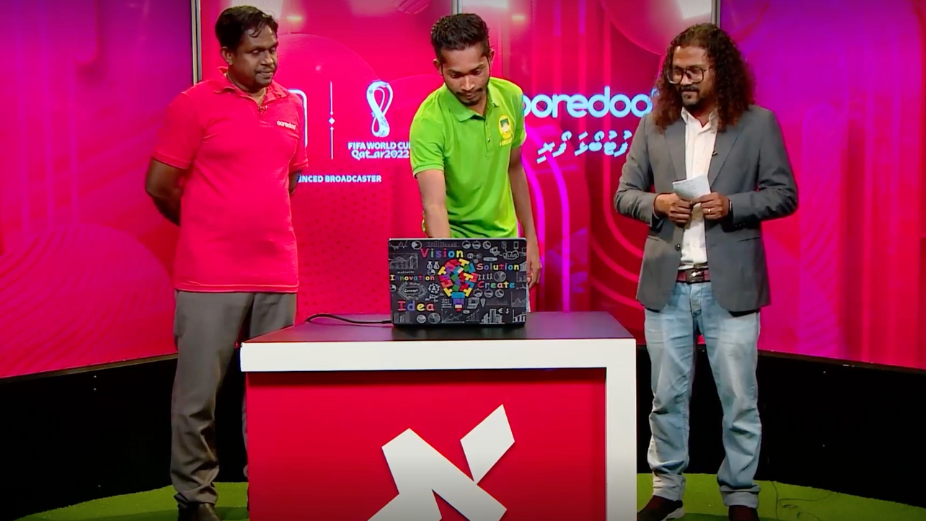 Ooredoo Maldives has announced the four lucky winners of the grand prize of Ooredoo Football Foari campaign offering the winners the chance to win a trip to Qatar to watch a semi-final match of FIFA World Cup Qatar 2022. The Lucky Draw was open to all existing and new Ooredoo customers who were active during the promo period – 1st August 2022 till 31st October 2022.
The lucky draw winners were selected and announced live on Raajje TV Road to World Cup Show aired on 7th November 2022 at 11pm by key Maziya players and the Vice Chairman, Ibrahim Waheed along with Chief Commercial Officer of Ooredoo Maldives, Hussain Niyaz.
The four Lucky Winners of Ooredoo Football Foari Lucky Draw
Mariyam Shabnam
Ahmed Shiham
Hafiz Saeed
Somarathna Yodage
"Warmest congratulations to the 4 lucky winners who will be enjoying the semi-final match live at the stadium and experience the excitement first hand in Qatar – the hosting country of this year's world cup tournament. With our aim to bring this excitement to Maldives as much as possible, we have a lot of activities planned for our customers who will be watching the matches here in Maldives as well. Together with our partners, we look forward for a colourful and exciting time ahead that would be enjoyable to all ages of people across the nation" Managing Director & CEO, Khalid Al-Hamadi.
Under the promotion, the four lucky winners will receive return ticket to Qatar, accommodation and stadium tickets to watch a Semi Final match live. In addition to the trip to Qatar, Ooredoo Maldives have been offering exciting prizes including Samsung Galaxy Buds, Airpods, Airtags and more to lucky winners chosen every week.
The lucky draw promotion was part of Ooredoo Maldives' Football Foari campaign which officially kickstarted on 23rd May 2022 with the aim to enable Maldivian football fans an exciting and fun World Cup experience. Ooredoo Maldives also signed as the Coverage Title Partner of Medianet's Coverage for FIFA World Cup Qatar 2022 to enable the customers who are spread all across the nation to watch the matches from anywhere. Customers will be able to enjoy the excitement of the World Cup Qatar 2022 and support their favourite teams on the go, with their friends and family at their homes and Fan Zones across the nation.
Ooredoo Maldives congratulates the lucky winners of Ooredoo Football Foari Lucky Draw and looks forward to enjoying the world cup fiesta with its customers.