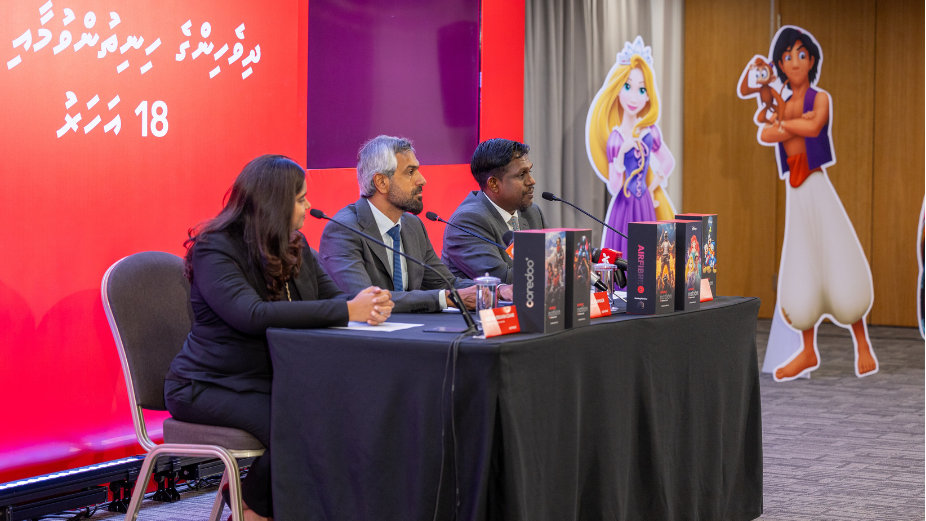 Ooredoo Maldives celebrated its 18th Anniversary, a momentous milestone in their journey of connecting lives and empowering communities with seamless internet connectivity and digital solutions.
As the company marks this special occasion, Ooredoo extends their heartfelt gratitude to their valued customers and esteemed partners for their unwavering support and trust throughout the years.
"As we mark our successful journey of 18 years in the Maldives, our growth has been fuelled by the trust and love of our customers and partners. We are immensely grateful for your unwavering support, which has been the driving force of our growth and success throughout our 18 years of journey in the Maldives.  We reassure our commitment and remain steadfast in building a Digital Maldives, connecting to new opportunities to enrich the lives of our communities across the nation. Once again, I extend my heartfelt gratitude to our customers and partners for their continuous support and as a community-focused company we will keep our promise to keep our customers smiling". Ooredoo Maldives Managing Director and CEO, Khalid Al Hamadi.
To commemorate this special occasion, a special Press Conference was held at Meerumaa, where the Ooredoo Maldives Managing Director and CEO, Khalid Al-Hamadi, Chief Commercial Officer, Hussain Niyaz and Head of Brand & Marcomms, Noora Ibrahim Zahir shared strategic updates of the company, unveiling a range of exciting offers to elevate the digital experience of their customers.
No Throttle, Unlimited SuperNet Plan
No Throttle, Unlimited SuperNet Plan offers uninterrupted internet access with 18mbps speed all month long for just MVR 599. without any speed throttling, this Anniversary special plan is designed to elevate the digital journey of customers with unlimited surfing, browsing, streaming and Gaming. Customers who would like to activate this unlimited plan can visit http://ore.do/supernetunlimited.
Pay Postpaid Bill in Advance and Unlock Fantastic Benefits:
Postpaid Bill in Advance is an optimal alternative to make Postpaid bill payment that not only provide convenience but also unlocks massive discount benefits. This globally proven approach ensures that customers who subscribe or pay for longer periods at one go receive exceptional rates and additional rewards. Aachaa Postpaid and Netueyo Postpaid customers who choose to pay their Postpaid bill for 3 months, 6 months, 12 months and 24 months at one go will not only enjoy uninterrupted connectivity but also gain substantial savings.
Pay for 3 months and enjoy 5% Discount
Pay for 6 months and enjoy 10% Discount
Pay for 12 months and enjoy 15% Discount
Pay for 24 months and enjoy 20% Discount
Moreover, customers who opt for this payment plan will also receive 18GB Bonus Data every month for three months, adding more value for an enhanced experience. New customers interested to explore the range of Postpaid packages available on the Ooredoo network can visit: http://ore.do/payless
1TB Data at 100mbps on 5G AirFibre
Ooredoo Anniversary Special Edition Gaming Pack offers 250GB weekly for just MVR 250 with 100mbps speed on 5G AirFibre. Specially tailored for the gaming community, this gaming pack offers the benefit of continuous access to the internet even upon utilizing the package's inclusive Data. Customers can continue to top up MVR250 weekly and enjoy 1TB of Data for the whole month with the superfast speeds of the Ooredoo 5G network. To acquire this special pack, visit http://ore.do/5gamers
Ooredoo Nation Games Club
In line with Ooredoo's continued commitment to connecting the local community to international platforms, Ooredoo Nation today announced its partnership with Disney, introducing Ooredoo Nation Games Club, where gamers can access a vast library of over 100 games, including a delightful collection of Disney-branded games, at an incredibly affordable price. Customers can subscribe Daily, Weekly and Monthly to enjoy their favourite Disney Games on Ooredoo Nation.
Daily Subscription: MVR 2 for 24 hours
Weekly Subscription: MVR 10 for 7 days
Monthly Subscription: MVR 20 for 30 days
For added convenience, prepaid customers can pay for the subscription from their Prepaid balance, while Postpaid customers can have it added to their monthly bill. Subscribers can also opt for auto-renewal to stay entertained seamlessly. Customers can now visit http://ore.do/5gamers and enjoy the vast array of games available on the platform.