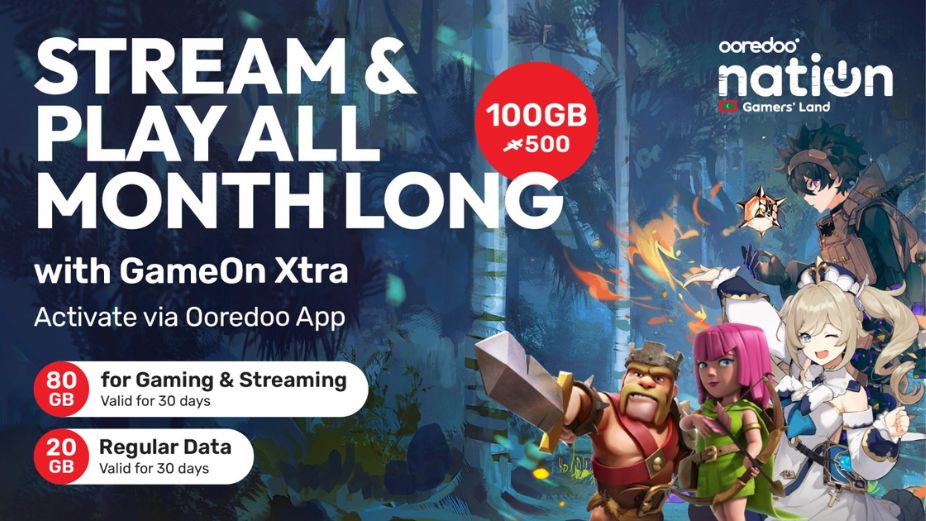 Ooredoo Maldives has launched a special GameOn Xtra pack – a special pack for gamers. This exclusive offer brings gamers and streaming enthusiasts an unmatched experience with a whopping 100GB data allowance, tailored specifically for their gaming and streaming needs. Priced at just MVR500, customers can indulge in non-stop entertainment throughout the festive season.
GameOn Xtra Pack is the perfect companion for gamers and streaming enthusiasts, providing a generous allocation of 80GB of data dedicated to gaming and streaming activities. Whether you're battling it out in popular multiplayer games, exploring vast virtual worlds, or streaming your favourite movies and shows, this package ensures uninterrupted access to the thrilling realms of virtual entertainment.
In addition to the 80GB of gaming and streaming data, customers' pack also includes 20GB of regular data, allowing them to stay connected to their loved ones, browse the internet, and enjoy a range of other online activities. With a total of 100GB at their disposal for the whole month, GameOn Xtra Pack ensures that customers can have it all during the festive season – indulging in both their gaming passions and staying connected with the outside world.
To activate GameOn Xtra pack visit, http://ore.do/gameonxtra