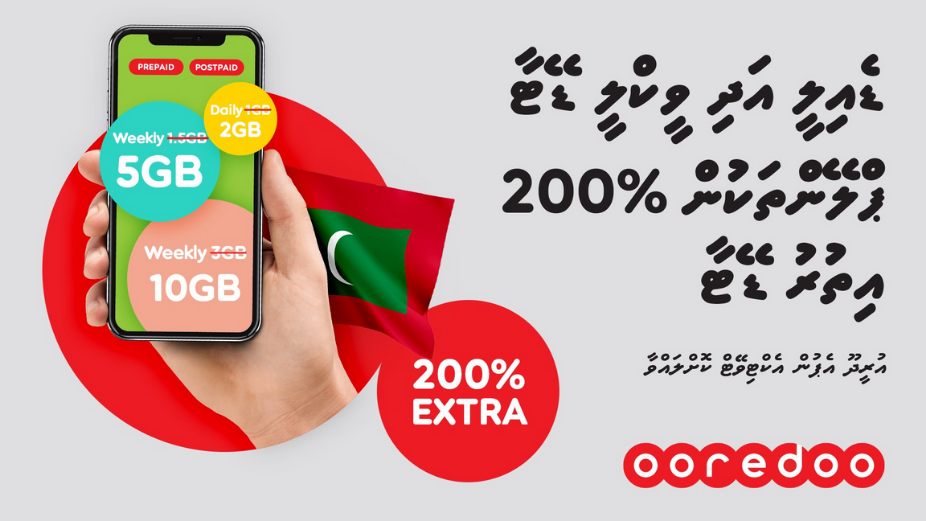 Ooredoo Maldives once again extends special offers to its Postpaid, Prepaid and Broadband customers starting from 1st June 2021, to help them stay updated and connected with their loved ones as the nation faces another wave of COVID -19 pandemic.
The decision to extend special offers during these difficult times is ensure customers have uninterrupted, high quality and easy access to latest information on Covid-19 related matters, and are able to continue their work from home, education and other daily essential needs via digital.
"Since the beginning of Covid 19, Ooredoo Maldives has been continuously extending its support to its customers, communities and even the Ooredoo Family. As the nation is going through another wave of the virus, we are committed to help our communities stay connected with friends and family by once again reinstating special offers to encourage stay at home practices unless absolutely necessary." Hussain Niyaz, Chief Commercial Officer of Ooredoo Maldives
The special offers launched exclusively for Ooredoo customers include:
Up to 50% bonus data on SuperNet Broadband Services
Up to 30% bonus data on Faseyha Broadband Services, available nationwide
200% bonus data on daily and weekly prepaid data add-ons. These add-ons are now available for Varah Thafaathu and Eku Postpaid customers as well.
Up to 50% bonus data on Postpaid monthly add-ons.
100% bonus data on social, gaming, and streaming packs, for both prepaid and postpaid customers
Free Viber messaging for all existing postpaid customers.
Deposit Free upgrade for Prepaid customers to Eku postpaid, Thafaathu Postpaid and newly launched Aachaa Postpaid plans.
Double data offer on Aachaa 1GB/Day plans, providing 2GB per day.
Continuation of Magey Plan Exclusive offers via Ooredoo App offering more than 100% data.
Free Facebook via Facebook Flex
Ooredoo Maldives has undertaken several initiatives to support communities since the beginning of the pandemic and will continue to work closely with the government of Maldives, HPA Maldives and other key stakeholders to support the nationwide awareness efforts for Covid-19.
For more information on the special offers, please visit: http://ore.do/covid19
For any support to manage your Ooredoo services from home, visit: http://ore.do/godigital