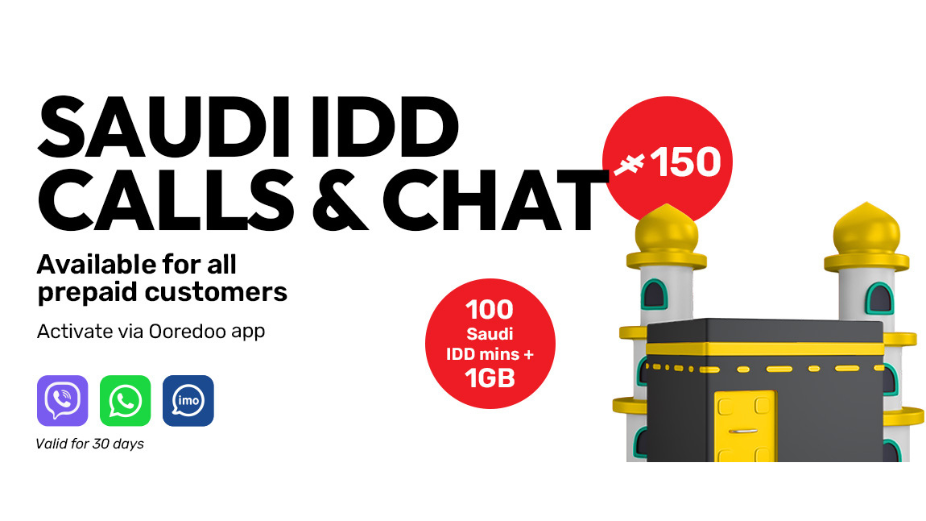 Ooredoo Maldives has announced exciting offers with massive benefits to enable customers to conveniently stay connected with their loved ones travelling to Saudi Arabia to perform Hajj, the Islamic religious pilgrimage to Mecca this year. Ooredoo unveiled Hajj SIM – a special SIM card for travellers with a 90% discount on roaming rates and a Saudi IDD Pack to call Saudi Arabia at a special rate. 
"We are delighted to enable our customers travelling to Saudi Arabia to perform the holy pilgrimage this year to conveniently stay connected to their loved ones during their trip. With up to 90% discount on roaming rates, it definitely gives our customers greater value for money and avoids getting large bills at the end of their journey. We wish all the Hajjajis a mabroor hajj," said Ooredoo Maldives Head of Brand and Marcomms, Noora Ibrahim Zahir.
Saudi IDD Pack
Ooredoo customers will be able to keep in touch with friends and family in Saudi Arabia with Saudi IDD pack that offers 100 Saudi IDD minutes and 1GB social data (Viber, Whatsapp, IMO) for only MVR 150. Both Postpaid and Prepaid customers can enjoy this offer throughout the Hajj season. To activate the pack customers can send an SMS to 1111 with the keyword "SD150" or activate via Ooredoo App.
Hajj SIM
Hajj SIM offers up to 90% discount on roaming rates enabling customers to enjoy the lowest roaming rates for voice, Data and SMS to stay connected with their loved ones and share their moments from their trip online while keeping their own number active.
While the Hajj SIM is only eligible for Postpaid customers, existing and New Postpaid customers who would like to get the lowest roaming rates will need to upgrade their existing SIM card to a Hajj SIM which will be available from all greater Male' Ooredoo Experience Centers (OEC). Customers can activate the roaming service through my.ooredoo.mv self-care portal or by visiting an Ooredoo Experience Center. Customers can easily self-activate Data Roaming Service by dialling *929*6#. This special SIM will get automatically activated once the customer starts using the roaming service in Saudi Arabia. To enjoy this hassle-free, worry-free service, customers should have SIM Application settings on "Automatic" prior to their travel. 
Roaming customers who missed changing the SIM card to a Hajj SIM, customers will still be able to roam as per the Standard Roaming rates. After activating Hajj SIM, customers who wish to switch to a Prepaid plan or a Bill Control Postpaid, Hajj SIM will be replaced with a normal SIM card.