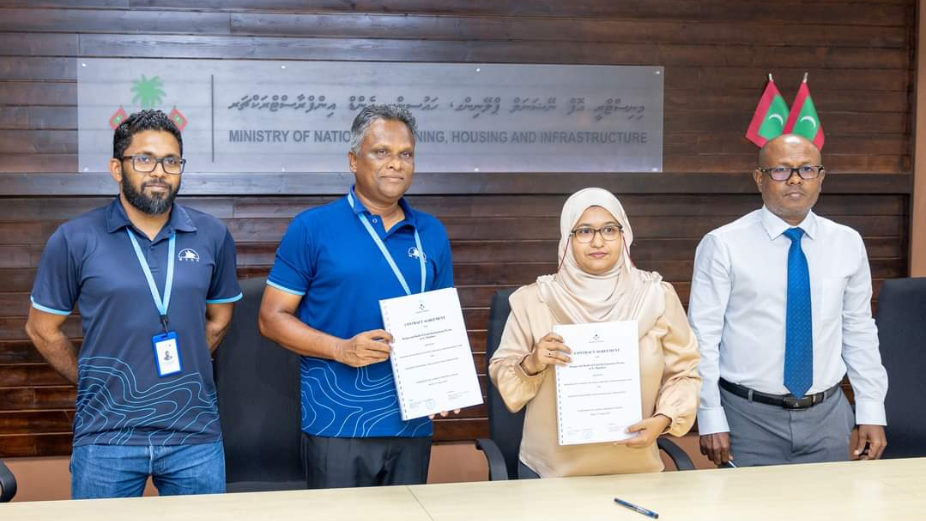 The Maldives Transport and Contracting Company (MTCC) has inked a series of significant agreements with the Ministry of National Planning, Housing and Infrastructure, Thursday.
The first agreement in this series is for the N. Maafaru Land Reclamation Project. The CEO of MTCC, Adam Azim, and the Director General of the Ministry, Fathimath Shaana Farooq, formalized the contract. MP Ahmed Haroon attended the signing ceremony. The project, valued at MVR 84.68 million, encompasses a comprehensive sand search survey and reclamation operations spanning 20.40 hectares. The project timeline has been set for 300 days.
A second agreement was signed for the Lh.Hinnavaru Harbor Development Project – Additional Work. This project's scope of work includes the construction of a 244m breakwater, the reprofiling of an existing 52m breakwater, and a concrete jetty (270m x 2m). With a budget of MVR 24.32 million, this project is due for completion within 270 days.
The third agreement for the F. Bilehdhoo Land Reclamation and Shore Protection Project was also finalised. The scope of these projects includes a sand search survey, reclamation operations for 10 hectares, a 589m revetment, and a 470m groyne. This project carries a price tag of MVR 95.59 million and are slated for completion within 500 days.
The R. Meedhoo Harbor Development Project was confirmed with a budget of MVR 44.81 million. This project involves multiple operations, including 14,337 cbm maintenance dredging, 29,508 cbm harbour dredging, 2038 cbm channel dredging, the construction of a 215.60 m breakwater, a 172m revetment, a 20m groyne, and a 203m quay wall. In addition, the plan includes a ramp (11m x 11m), a bridge (25m x 2m), the installation of harbour lights, 1495 sqm harbour pavement, and 307m kerbs. The project timeline stands at 450 days.