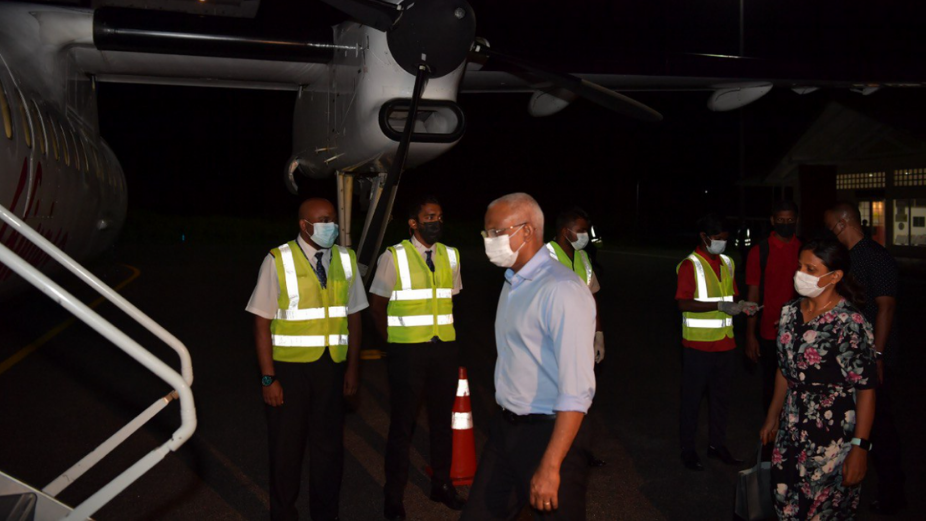 President Ibrahim Mohamed Solih and First Lady Fazna Ahmed have concluded their trip to the North Miladhunmadulu (Shaviyani) and North Maalhosmadulu (Raa) Atolls and returned to Malé City on Thursday night. They travelled to Funadhoo, Lhaimagu, Foakaidhoo and Maaungoodhoo islands of Shaviyani Atoll and Vaadhoo, Alifushi, Rasgetheemu, Angolhitheemu and Maduvvari islands of Raa Atoll during this three-day trip.
President Solih held discussions during the trip with the Shaviyani Atoll and Raa Atoll Councils and the members of the island councils and Women's Development Committees (WDCs). He also met with several key stakeholders from the islands such as the fishing and farming communities as well as police and healthcare providers. The President officially launched the Job Centre in Raa Alifushi Island, facilitated by the Ministry of Economic Development, stating during the inauguration ceremony that this centre would be the first in a nationwide campaign to connect job-seekers with employers. He also inaugurated the new multi-purpose hall at Raa Atoll Maduvvari School.
First Lady Fazna Ahmed visited several local schools during this trip, speaking with students and holding discussions with the educators and administrators of the schools. She gifted books to the school libraries on preventing bullying and creating awareness against sexual violence. She also visited the Family and Children's Services Centre (FCSC) by the Ministry of Gender, Family and Social Services located at Shaviyani Funadhoo Island.
The President and First Lady also toured important landmarks, sites of historical significance and inspected the progress of ongoing development projects and government-initiated programmes on the islands. They were accompanied on this trip by cabinet ministers, senior officials from the President's Office and a delegation of high-level government officials.