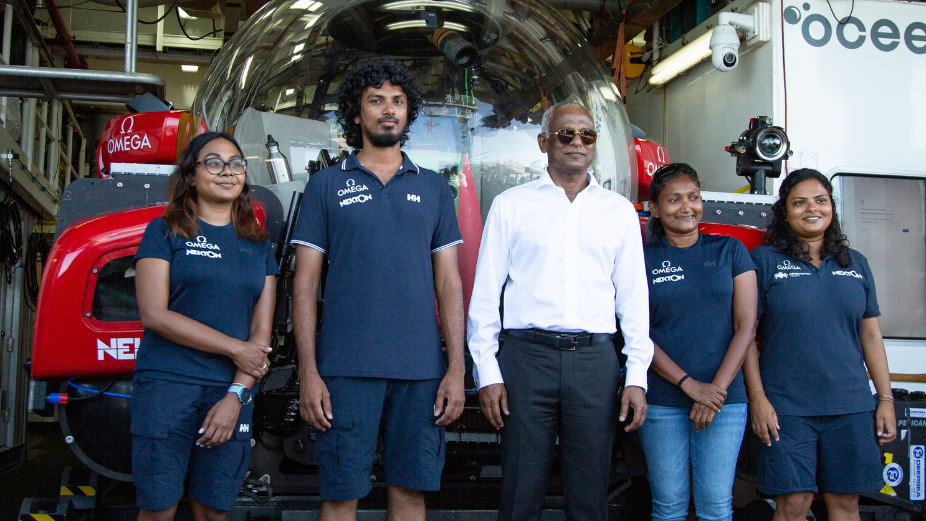 The President of the Maldives has paid a surprise visit to the international Nekton Mission to offer support to ocean scientists in their quest to find answers that can help unlock the secrets of the deep.
President Ibrahim Mohamed Solih knows no maps exist of Maldivian waters beneath 30 metres — but that is changing by the hour.
Four Maldivian aquanauts, who met President Solih on board, have journeyed to 500 metres below the surface in the past two days. 
The President saw data they collected, which Nekton marine biologists and mapping experts are now analysing.
President Solih was accompanied by government ministers who explained how critical Nekton's work is for the nation's understanding of what lives in the deep ocean.    
"The results that we get, the species that we see, the underwater features of the Maldives and the historical level of land in those years are critical things," stated the Fisheries Minister, Hussain Rasheed Hassan.
"We as Maldivians need to know more about our oceans, more about what is happening to our oceans and the health of our oceans as well and I think it is critical that knowledge data, the evidence you find, stays here," stated Environment Minister Aminath Shauna.
Nekton has pledged all data and samples gathered on the expedition remain the property of the Maldives Government.