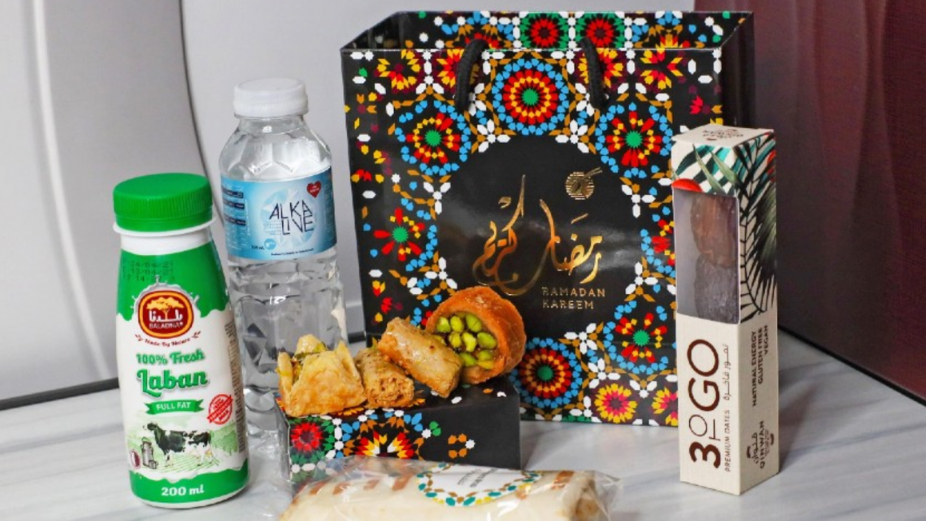 Qatar Airways has extended its tradition of celebrating the customs of the Holy Month of Ramadan with passengers on board by offering bespoke Iftar meal bags, consisting of Middle Eastern delicacies to break their fast during this holy month.
The Iftar bag, designed in-house, is a colourful modern execution of an Arabic pattern that you may see within a Fanous. The Fanous has become a popular symbol to represent the holy month as it adds to the magical and serene atmosphere that one experiences during this time. Each bag contains a selection of sweet and savoury delicacies that will be offered on selected routes across Algeria, Bangladesh, Djibouti, Egypt, India, Iran, Iraq, Jordan, Kuwait, Morocco, Oman, Pakistan, Saudi Arabia, Sudan, Tunisia and the United Arab Emirates.
On flights departing from Doha, the Iftar bag will contain a bottle of water, fresh Laban, Medjool Dates, Chicken Musakhan Wrap, Falafel Wrap and Baklava. For inbound flights to Doha, passengers will be offered the same selection with a Chicken Shawarma and a Muhammara Wrap.
Qatar Airways Group Chief Executive, His Excellency Mr. Akbar Al Baker, said: "With heart-warming greetings, we wish all our passengers Ramadan Kareem.  We are delighted to invite all our passengers this holy month, to share an Iftar meal together on board. The Holy Month of Ramadan is an important time for a great number of our customers, and we are excited to provide a service that is tailored to the needs of those who are fasting."
Travelling between time zones can be challenging for the fasting travellers; thus Qatar Airways cabin crew will make an announcement before the commencement of this service and serve the Iftar meal bags at the appropriate time during the flight.
Passengers at Hamad International Airport can also experience the spirit of Ramadan with a traditional Iftar or Suhoor at Qatar Duty Free's Harrods Tea Room. Along with the traditional menus, passengers will be offered Dates and Laban, traditionally served before Iftar and Suhoor during the Holy Month of Ramadan. To ensure a contactless dining experience, travellers will be able to digitally access the Iftar and Suhoor menu through their smartphones via QR codes.
Qatar Airways recently became the first global airline in the world to achieve the prestigious 5-Star COVID-19 Airline Safety Rating by international air transport rating organisation, Skytrax. This follows HIA's recent success as the first and only airport in the Middle East and Asia to be awarded a Skytrax 5-Star COVID-19 Airport Safety Rating. These recognitions provides assurance to passengers across the world that airline health and safety standards are subject to the highest possible standards of professional, independent scrutiny and assessment. For full details of all the measures that have been implemented on board and in HIA, please visit qatarairways.com/safety.
A multiple award-winning airline, Qatar Airways was named 'World's Best Airline' by the 2019 World Airline Awards, managed by Skytrax. It was also named 'Best Airline in the Middle East', 'World's Best Business Class', and 'Best Business Class Seat', in recognition of its ground-breaking Business Class experience, Qsuite. The Qsuite seat layout is a 1-2-1 configuration, providing passengers with the most spacious, fully private, comfortable and social distanced Business Class product in the sky. Qsuite is available on flights to more than 40 destinations including Bangkok, New York and Singapore. It is the only airline to have been awarded the coveted 'Skytrax Airline of the Year' title, which is recognised as the pinnacle of excellence in the airline industry, five times.