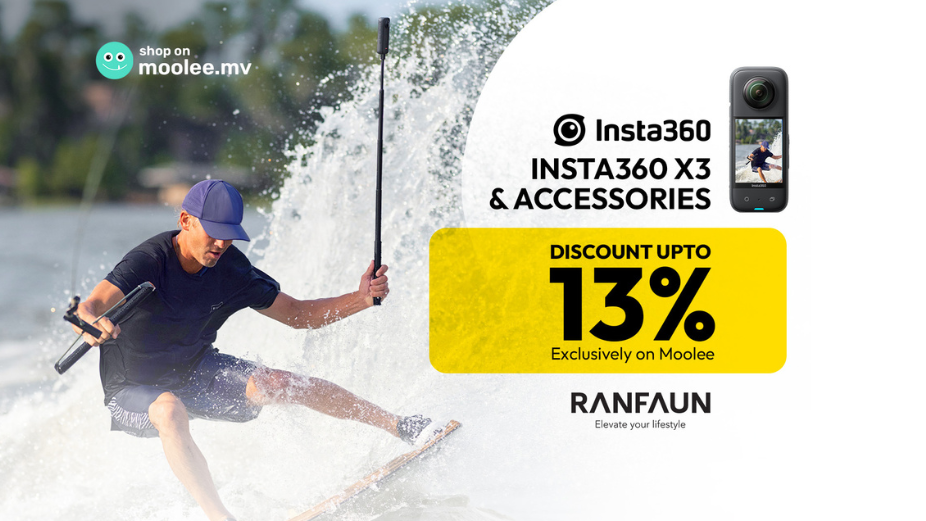 Ranfaun, the authorised seller and distributor of Insta360 in the Maldives partners with Moolee, the biggest online marketplace in the Maldives. To celebrate this momentous occasion, Ranfaun is offering customers an exclusive discount of up to 13% on the Insta360 camera and accessories purchased on Moolee before the end of 16th August 2023.
The Insta 360 device revolutionizes the world of photography and videography, allowing users to capture stunning 360-degree content with ease. With its cutting-edge features and exceptional quality, this device is set to redefine the way people document their experiences.
Key Features of the Insta 360 Device:
360-Degree Capture: The Insta 360 device offers a seamless 360-degree capturing experience, enabling users to relive their cherished moments from every angle.
High-Resolution Imaging: With its advanced imaging technology, the device delivers stunningly clear and detailed photos and videos, ensuring every moment is captured with utmost precision.
Compact and Portable: Designed for on-the-go adventurers, the Insta 360 device is compact, lightweight, and easily fits in your pocket, making it the perfect travel companion.
User-Friendly Interface: The device comes with an intuitive interface that allows users to navigate effortlessly and access a wide range of features and settings.
Versatile Shooting Modes: From time-lapse to slow-motion, the Insta 360 device offers a variety of shooting modes to suit every creative need, allowing users to unleash their artistic vision.
Seamless Connectivity: Users can easily connect the device to their smartphones or other devices, enabling real-time preview and easy sharing of captured content on social media platforms.
Moolee's exclusive launch offer brings tremendous benefits to customers seeking to own the Insta 360 device. Customers purchasing the Insta 360 device from Moolee during the offer period will enjoy an exclusive discount of up to 13%. This limited-time offer allows customers to obtain this ground-breaking device at an unbeatable price, making it the perfect opportunity to step into the world of immersive content creation. Moolee ensures a hassle-free shopping experience by offering free nationwide delivery on all Insta 360 device purchases. Customers can conveniently place their orders from anywhere in the Maldives and have their products delivered right to their doorstep, eliminating the need for unnecessary travel or additional expenses.
To enjoy this exclusive offer and elevate visual storytelling, customers can shop at https://mool.ee/ranfaun before the end of 16th August 2023.