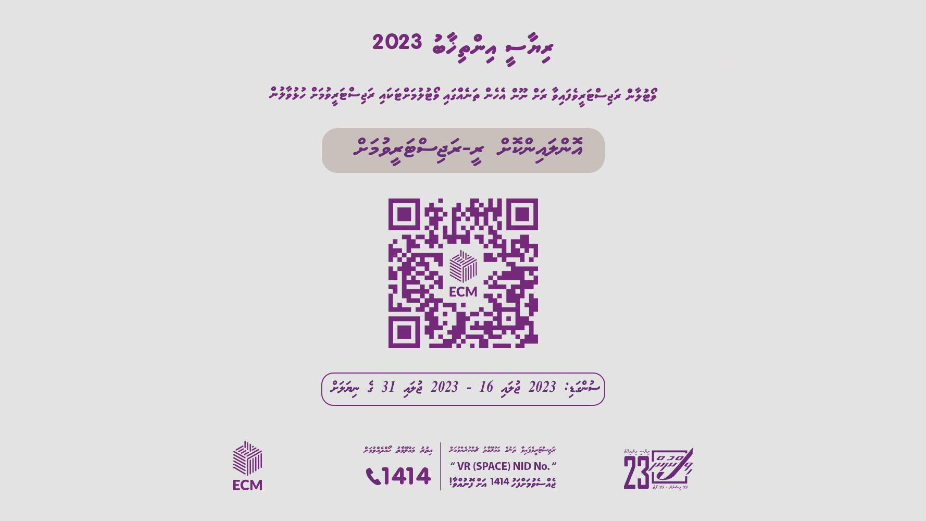 The Elections Commission of the Maldives (ECM) has announced a re-registration for voters who wish to cast their votes in a place other than their island of birth or registration, for the upcoming presidential elections.

Re-registration process will be open from today onwards, until August 5. However, online re-registration will only be open until July 31, according to ECM.
For this year's presidential election, people from other islands who previously registered to vote in the local council elections will automatically be registered in Male' city. As a result, voters in Male' city will not need to re-register for this election.

However, if they intend to cast their vote in a city other than Male', they will be required to undergo the re-registration process.
On the other hand, individuals who registered in islands other than Male' city for the local council elections will be registered at their permanent address for this year's presidential election.

To find out the location of your designated voting centre for this year's elections, voters can refer to the commission's website (www.elections.gov.mv) or use the SMS service by sending "VR space ID.No Send to 1414".
To facilitate the re-registration process, applications can be submitted through the EC's re-registration portal or the local council offices on residential islands other than Male' City, Addu City, Fuvahmulah city council, and Kulhudhuffushi city council offices.

For Male' city residents, nominations will be accepted at the election centre located at Dharubaaruge. The application form for re-registration will be made available on the ECM's website as well as in council offices.
When applying online through the re-registration portal, applicants must submit a copy of an official document indicating their eligibility to vote. The application period for online re-registration will run from July 16, 2023, to July 31, 2023.
The ECM has imposed limits on the number of forms that can be submitted at the time of re-registration. Private individuals can submit only ten forms at a time, while political parties or other institutions can submit up to 100 forms, along with an official letter endorsing them.
Maldivians living abroad are now permitted to re-register to vote in this year's presidential election. Those residing in India, Sri Lanka, Malaysia, The United Kingdom, Singapore, Thailand, Japan, and the UAE can apply through their respective Embassies, High Commissions, and Consulates.
The ECM has informed that 604 polling booths will be set up both within the country and abroad for this year's elections. However, this number is subject to change following the re-registration process.
Overall, a total of 282,755 voters are eligible to cast their ballots in this year's election, which is scheduled to take place on September 9.