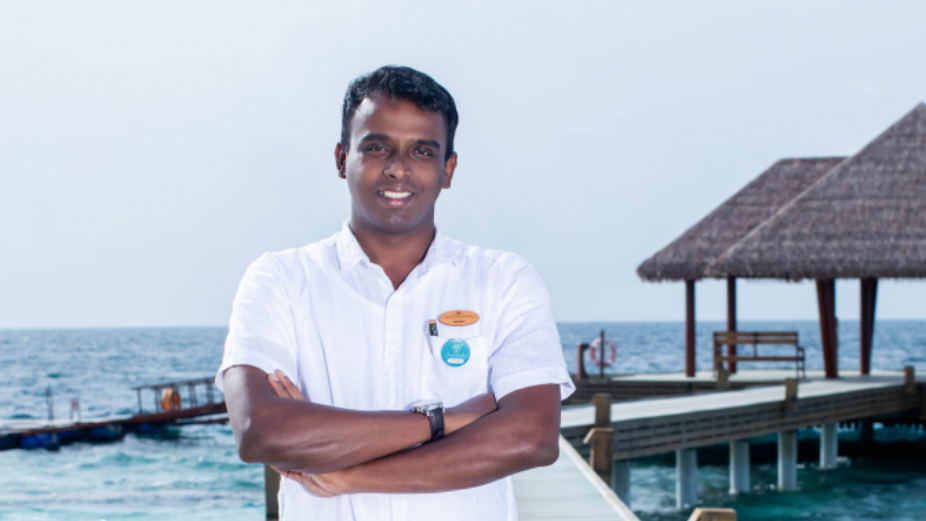 Reethi Faru Resort welcomes back Manoj Lovell as their Front Office Manager. Manoj rejoined Reethi Faru resort in 2021 to take up more significant challenges in post-covid front office operations and continue a successful tenure in the resort.
His primary role at Reethi Faru is to make sure that all the guests are very well taken care of and give them the warmest Hospitality of Reethi Faru resort while enjoying their time at the bio luxury escape.
Manoj started his career as a Guest Relations Executive in 2012 with Adaaran Prestige Vadoo, his first work experience in the hospitality industry. Since then, he has been very excited about pursuing his career in this field. During his tenure at Vadoo for over 4 + years, Manoj worked with different teams and worked his way up to a Front Office Executive and eventually as the Assistant Front Office Manager. In 2017, he took a break of one year from the Maldives to complete his studies in Hospitality while working in Sri Lanka.
In 2018, Manoj joined Reethi Faru Resort as the Front Office & Reservations Manager. During his year at Reethi Faru, Manoj gathered more experience in Front Office operations as the head of the department, which he mentions was not an easy challenge. However, being a constant challenge seeker, he grabbed the opportunity to join Adaaran Select Meedhupparu & Adaaran Prestige Water Villas in 2019 and led the front office and the transfers teams as the Front Office Manager.
When asked what he's enthusiastic about, Manoj said, 'I have always seen myself as a people's person, starting my career in human resources and pursuing my goals in the hospitality industry. I have closely worked with different people from different ethnicities, bringing the most considerable enthusiasm in my day-to-day life here at Reethi Faru."
"There's a quote by Steve Jobs that I have always admired "Innovation distinguishes between a leader and a follower" being innovative, passionate, and thriving for the best is what keeps us going. I see myself as a part of this beautiful island with so many creative ideas that I learn from each day. Leaders and the owners of the property have set so many examples for the hospitality industry in general; We can proudly say that we are one of the top listed hotels in the Maldives, rich in sustainable environmental practices. I am confident that we will keep continuing."
Manoj said, "I'm proud to rejoin and be a part of this highly visioned team because, apart from the daily hospitality operation, we do many other things that will add significant value to our natural surroundings. And sustainable development of this beautiful island nation. We as a team strive to become the most sustainable resort, become a competitive market leader, and set an example to all our stakeholders".
Manoj believes in achieving tiny things daily. He is proud and feels content when small tasks are accomplished as a team. The most significant achievement he sees is adapting to any change, facing any challenge, and learning something new every day.
Reethi Faru Resort is a one-of-a-kind tropical island paradise. The glistening crystal clear ocean meets the endless white coral sand, and where its lush foliage turns it into a truly magical lagoon escape. From the moment you step into its crystal clear light blue waters stretching across the soft sands, we are sure you'll feel immersed in tranquillity. A natural and alluring island where you can choose from a plethora of experiences to enjoy during your stay, including a PADI 5-star dive centre, a watersports centre and sports complex, various excursions, a wellness spa, an infinite pool, six restaurants, and six bars.
Reethi Faru Resort is popularly known as a Bio-luxury barefoot island paradise that has made its mark in the four years it's been operating in the Maldives. From growing their established presence in the European markets to catering globally within all corners of the world, most notably Russia, USA, India post the pandemic and China before the pandemic.