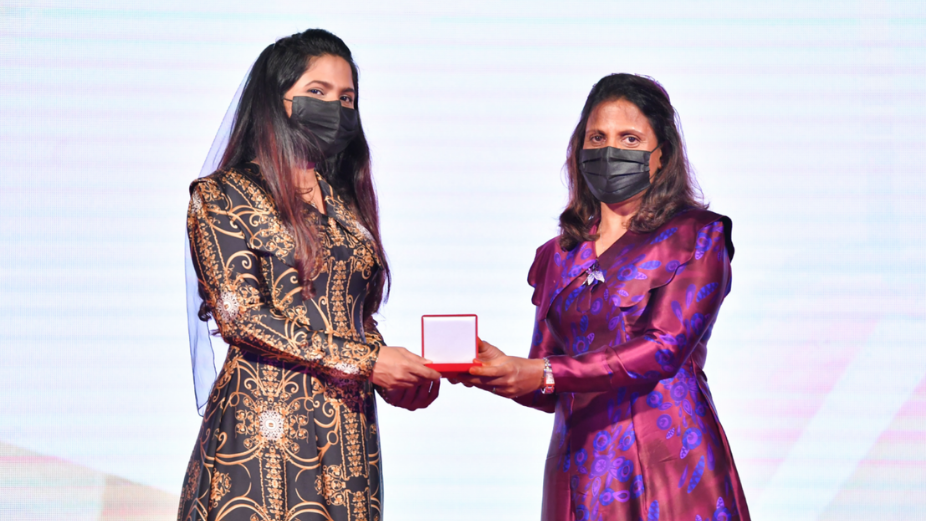 The Rehendhi Award has been conferred to 14 women for their outstanding services to national development and society in the Maldives.
A special ceremony was held at Hulhumale' Rehendhi School last night to present the awards to its recipients. As the award ceremony of last year was held off due to the COVID-19 pandemic, last night's award ceremony saw the conferring of awards to winners of both 2020 and 2021.
7 women won the Rehendhi Award 2020, while 7 won the Rehendhi Award 2021.
Recipients of Rehendhi Award 2020
Fathimath Ibrahim, Kaanimaage, Lh. Hinnavaru (social services)
Maryam Shunana, H. Velasfaruge, Male' (social services)
Aminath Ameena, Handhuvareege, L. Kunahandhoo (for outstanding services in respective field)
Shifza Mustafa, Aasaanu, G. Fuvahmulah (for outstanding services in respective field)
Aishath Hussain Manik, H. Reendhookokaage, Male' (for outstanding services in respective field)
Hawwa Latheef, Hulhumale' flat 10-3-01 (for outstanding services in respective field)
Minha Faiz Rashad, Hulhumale' flat 99-1-02 (for outstanding services in respective field)
Recipients of Rehendhi Award 2021
          Ahumeema Luthfy, Meenaz, S. Hidhathoo (education)
          Shaha Hashim, K. Male' (science, technology, engineering and mathematics)
          Zeeniya Ahmed Hameed, K. Male'
         Nadiya Abdul Gafoor, L. Kunahandhoo (social services)
         Hawwa Raamizaa, Aseymirusge, S. Hithadhoo (sports)
         Sergeant first class Nasreena Hassan, Dhaftharu No. R.S 2923 (for outstanding services in respective field)
         Shiyama Ahmed, M. Courage, K. Male' (men and women from the general public who have contributed outstanding efforts to women's development)
         L. Fonadhoo Women's Development Committee
At last night's ceremony, President Ibrahim Mohamed Solih stated that the purpose of the Rehendhi Awards is to celebrate the efforts and accomplishments of women in the Maldives and to empower more women to play key roles in national development. 
President Solih added that the government had always aimed to promote gender equality in all areas, including the social and political arena. He highlighted his government's amendments to the Decentralisation Act, which mandated one-third of each council to be female councillors and the establishment of a Women's Development Committee with 5 members elected from each island. The President noted the success of the endeavour, stating that 39.5 per cent of elected councillors were female, allowing women to have a strong impact on decisions that affect their lives, livelihoods and local communities. Women are already playing the most significant role in national development, he said, as women make up some 78 per cent of the education sector in the Maldives.
However, President Solih noted, the participation of women in national development and representation in all sectors has room for improvement. He acknowledged that there were still some barriers and difficulties hindering women from enjoying the same opportunities and benefits, not just in the Maldives, but worldwide as well. He expressed his confidence that as more women are empowered to play major roles in society, the Maldives can move forward towards a fully impartial and unbiased nation with equal rights and participation from men and women.