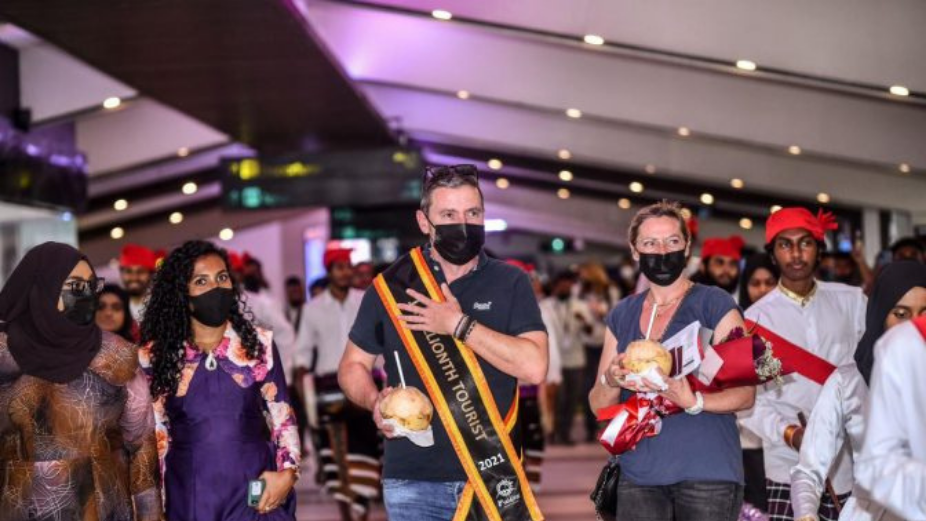 Maldives has recorded over 280,000 tourist arrivals so far in this year – the Golden Jubilee Year of Tourism.
As per the statistics published by the Tourism Ministry, a total of 280,774 tourist arrivals have been recorded as of 28th February 2022. During the ongoing year, an average of 4,759 daily arrivals are being maintained, with their stay period recorded at an average of 8 days.
The tourist arrivals recorded so far this year shows an increase of 48.6% compared to the same period in 2021. Tourist arrivals in 2022 however, shows an overall decrease of 12.3% in comparison to the arrivals recorded during the same period in 2019, a record-breaking year for Maldives tourism.
Russia is currently dominating the top market for Maldives tourism contributing 15.5% to the total tourist arrivals so far. The United Kingdom follows at second contributing 11.1% and third comes India contributing 9.1%. Other top markets include Germany, Italy, France, the USA, Ukraine, Switzerland, and Austria.
Tourist arrivals from Ukraine are expected to be severely impacted by the Russian invasion of Ukraine as the commercial flights to Ukraine have been suspended. Russian tourist arrivals are yet to show a significant impact, however, the sanctions imposed on Russia are expected to have a considerable negative impact on the tourist arrivals.
Additionally, Saudi Arabia was ranked in the top markets for Maldives tourism earlier this year, the country has since been replaced by Switzerland, where arrivals have been steadily increasing.
According to the latest daily statistics released by the Ministry of Tourism, a total of 1,171 tourist accommodation facilities are in operation this year including resorts, marinas, guesthouses, safari vessels and hotels. The total operating capacity is currently recorded as 54,178 beds.
This year, Maldives is also getting ready to celebrate an exceptional year, marking 50 years – the Golden Jubilee celebration of tourism in the Maldives.