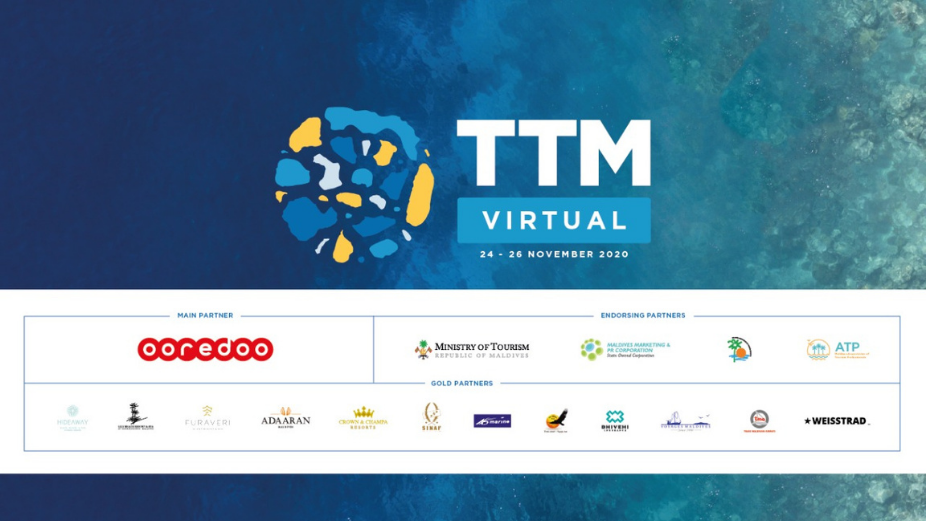 TTM has confirmed all of its partners for TTM Maldives 2020 Virtual, the leading international travel trade fair of the Maldives which is to be held from 24th to 26th November.
The Main Partner for the event is the telecommunications giant, Ooredoo Maldives. With this partnership, signed on behalf of the company by Acting Chief Commercial Officer Mr. Hussain Niyaz, Ooredoo Maldives continues to support the tourism industry of the country.
Endorsing Partners for TTM Maldives 2020 are the Ministry of Tourism, Maldives Marketing and PR Corporation, Maldives Association of Tourism Industry, and Maldives Association of Tourism Professionals.
Gold Partners for the event include Hideaway Beach Resort & Spa, Lily Beach Resort & Spa, Furaveri Island Resort & Spa, Adaaran Resorts, Crown & Champa Resorts, SINAF, Al Shaali Marine, The Hawks, Dhivehi Insurance, Voyages Maldives, Trans Maldivian Airways, Print Lab Creative and WEISSTRAD.
Travel Trade Maldives (TTM) is the leading international travel trade fair held in Maldives, showcasing over 150 resorts/hotels & leading 200 operators from the top 30 countries to the Maldives. This will be the fourth edition of TTM Maldives, and will be held virtually from 25th to 26th November. Using the newly relaunched "TTM Connect" software, trade exhibitors and visitors will be able to connect and network online.
Along with TTM Maldives, the TTM Travel Summit will also be held virtually from 24th to 26th November. TTM Travel Summit is an annual event that brings together thought leaders, industry shapers and senior decision-makers who are professionally engaged with tourism in the Maldives. This year, it will be hosted by Dolores Semeraro, a multilingual hospitality speaker, certified digital marketing trainer and coach with 15 years of experience in Tourism and Hospitality.
Travel Trade Maldives is a product of Orca Media Group, a leading media and marketing company in Maldives.