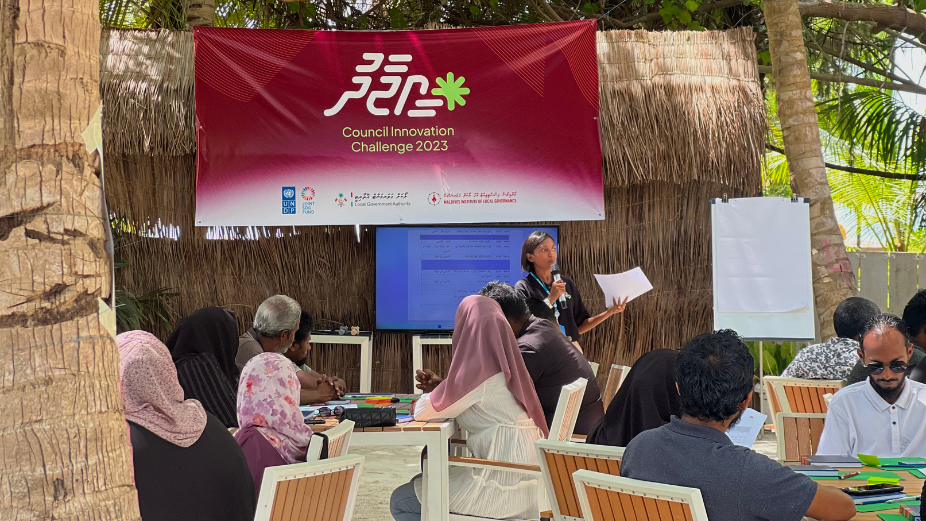 Together with the Local Government Authority (LGA), the United Nations Development Programme (UNDP) in the Maldives has launched the first-ever 'Eejaadhu' Council Innovation Challenge for island and atoll councils.
Twelve shortlisted councils are participating in this camp, which will be held from 6th August to 9th August. The camp aims to provide a platform for the councils to further develop and strengthen their innovative ideas proposed for the challenge. On the last day of the camp, the councils will present their final ideas to the judges.
The objectives of the 'Eejaadhu' Council Innovation Challenge are to:
• Enhance the capacity of councils to use modern technology, project management, and innovative solutions for sustainability to solve social problems.
• Provide a platform for councils to pilot and experiment with innovative solutions based on resources available within and beyond their jurisdiction to generate revenue.
• Showcase products to encourage other councils to find innovative solutions within the community.
• Expand innovative solutions and build such solutions in a long-term manner, such as local authority companies.
The challenge has prioritized six main areas for councils to submit innovative ideas. These areas include:
• Creative use of public spaces for the community.
• Establishing participatory democratic processes.
• Increasing women's participation in politics, civic, and economic spheres.
• Environmental protection based on community experience and information.
• Reducing disaster risks and increasing climate change resilience.
• Ensuring participation in digital systems and establishing digital self-service.• On the last day of the 4-day camp, the council teams will present their final ideas to the judges and select the winners. The challenge will be judged by the programme partners, UNDP Maldives, LGA, a private sector partner, an innovation expert and a programme facilitator. The 1st prize winner of the challenge will receive a cash grant of Maldivian Rufiyaa 500,000.00 and the opportunity to work with UNDP's networks and technical experts.