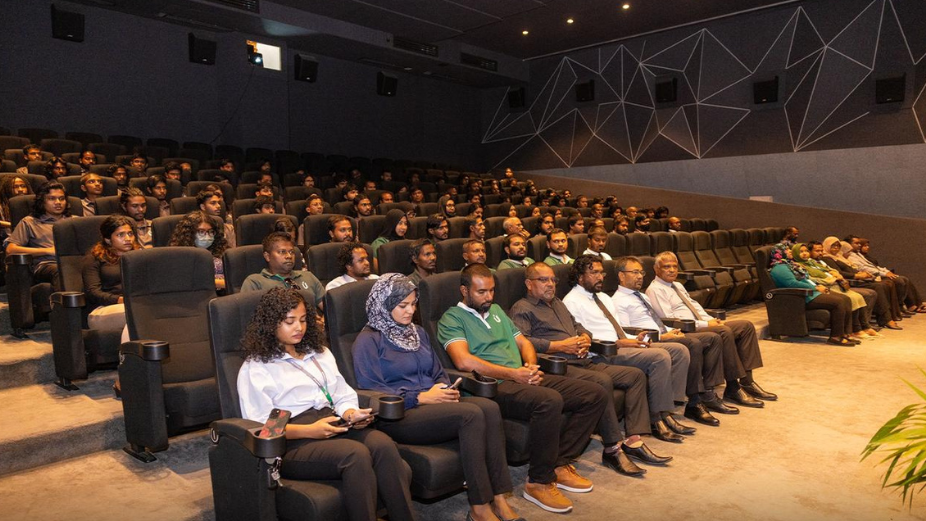 Urbanco unveiled its much-anticipated 2023 apprenticeship programme today during a ceremony held at Schwack Cinema.
The event saw the presence of esteemed dignitaries, including Mr Ibrahim Hassan, the Minister of Higher Education, Adam Haleem, Director of Programs at the Maldives Institute of Technology (MIT), and Ahmed Athif, Managing Director of Urbanco.
Urbanco reported that the primary objective of their apprenticeship program is to nurture and equip individuals with the necessary skills and competence in various selected fields.
The initiative aims to provide opportunities for aspiring participants who were not initially selected for specific fields, enabling them to pursue a national-level certificate that enhances their employability. By producing talented and skilled young individuals, the programme endeavours to bolster the country's workforce.
This marks the sixth edition of Urbanco's successful apprenticeship programme. This year, the programme welcomes a cohort of 100 participants, granting them access to training programmes aligned with the 'National Competency Standards' set forth by the Maldives National Skills Development Authority.
Upon completion of the programme, participants will acquire valuable work experience and hold a nationally recognized level 3 qualification accredited by the Maldives Qualification Authority.
The comprehensive training provided under the apprenticeship programme covers 11 key areas. Participants will receive instruction in heavy vehicle operation, welding, gardening, refrigeration and air condition mechanics, inventory management, computer hardware and networking, housekeeping, front office services, health and safety in construction, painting and decorations, and construction site supervision.
The successful implementation of the apprenticeship programme was made possible with a Memorandum of Understanding (MoU) signed with the Ministry of Economic Development and the Ministry of Youth, Sports, and Community Empowerment. Additionally, the programme received support from the Ministry of Economic Development and the World Bank's 'COVID-19 Emergency Income Support Project.'
Athif expressed the company's dedication to supporting the government's goal of training 3,000 young individuals. He affirmed Urbanco's determination to foster capable and skilled youth, while simultaneously generating ample opportunities for their development.
Athif highlighted the company's stance to empower the youth in diverse ways and ensure their seamless integration into the job market, which thereby reduces reliance on foreign expertise and enables practical experience.