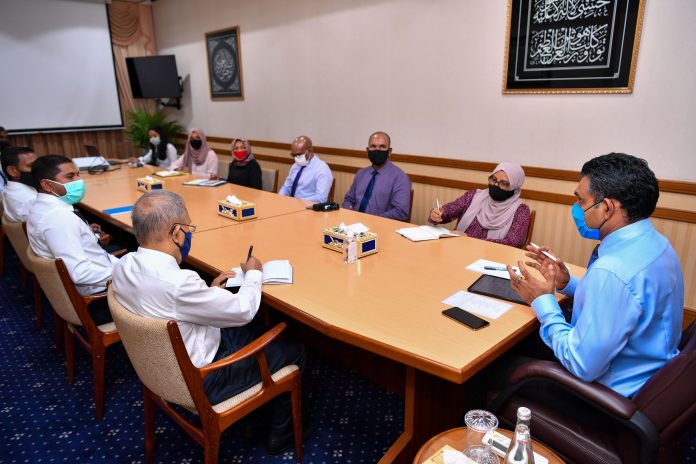 Vice President Faisal Naseem has held discussions with stakeholder institutions on the efforts undertaken to advance the government's key Strategic Action Plan (SAP) sector 'Dignified Families', on 16th July 2020.
During the meeting held at the President's Office, Vice President Faisal Naseem emphasized on the importance of aligning the work of stakeholder institutions towards the goals set in the SAP sector and enquired on the individual and collective measures taken by stakeholder institutions in this regard.
Stakeholders at the meeting highlighted key strategies and programs underway to promote 'Dignified Families'. Discussions also focussed on the efforts to strengthen family ties, the work to curb socio-economic issues, and the implementation of special measures to ensure child safety through the recently enacted Child Rights Protection Act.
Additionally, the Vice President urged all parties to work closely together to achieve the goal of creating 'Dignified Families'.
The meeting was attended by the Minister of Gender, Family and Social Services, Aishath Mohamed Didi, Minister of Youth, Sports and Community Empowerment, Ahmed Mahloof, Minister of Islamic Affairs, Dr. Ahmed Zahir, Prosecutor General Uz. Hussain Shameem and a top Family Court official.