Dr. Naushad Mohamed, founder and President of Clique College gave an insight into his works and the success story of the institution at the Maldives Young Entrepreneurs' Summit 2019, a panel discussion held at the Corporate Maldives Business Expo.
According to Dr. Naushad, Clique College started with four friends who wanted to start a business with no clue on what they had in mind. They opened and searched the dictionary for a name and since Dr. Naushad had a Degree in Business Education, they wanted to venture into education.
The four friends contributed from own pocket for 2 years to the business. When they rented a 3 room apartment as the first premise to start the classes, they had enough money to operate just for 2 months. They didn't have any idea how they'll survive but took the bold decision to get through with it.
Since the beginning, Naushad has always been passionate about what he does and he was very involved in everything. When the very first batch of students arrived for the class, Naushad was mopping the floor. He went back home, got dressed and came to conduct the class.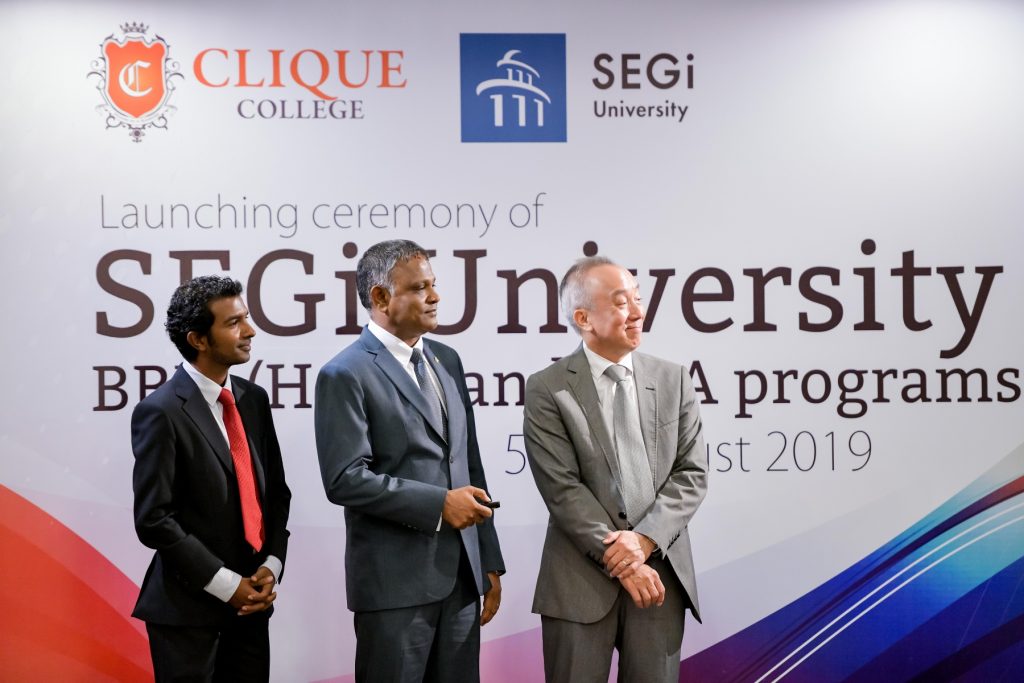 At a University Exhibition held at Nasandhura, Naushad approached ABE representative and proposed his idea to bring them to and open up a Maldives campus. At first, they weren't willing to give approval as they didn't have a proper campus or facility. The ABE representatives assumed they were students interested in the program and gave them the brochures and information about it. Naushad still didn't give up. He pursued them and later went on to convince them and finally got the approval run ABE programmes at Clique College.
Dr. Naushad Mohamed is now the founder and President of Clique College. The institution was awarded Presidents National Award in 2009 by His Excellency President Mohamed Nasheed. The college has partnered with leading universities around the world such as Heriot-Watt University and recently SEGi University in providing a world-class education to Maldivian students.