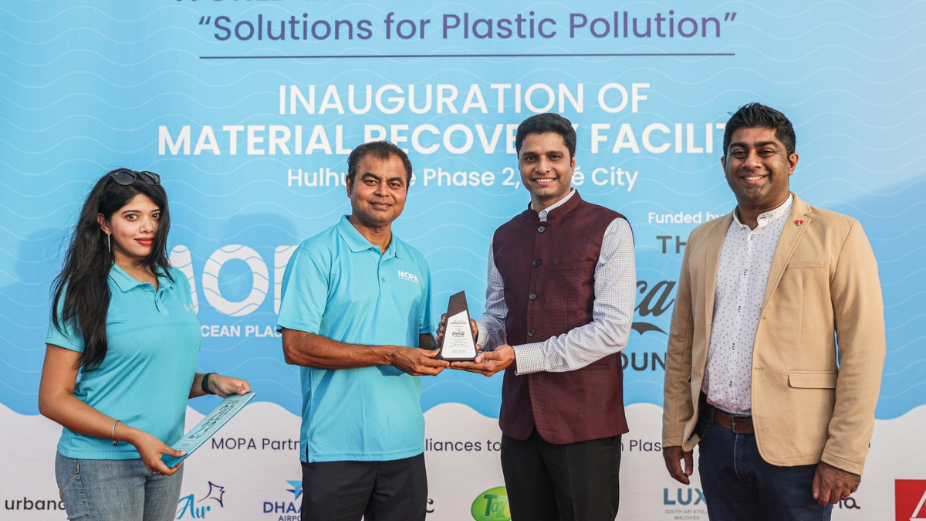 The Coca-Cola Foundation and Maldives Ocean Plastics Alliance (MOPA) have announced the inauguration of the first-ever Material Recovery Facility (MRF) in Maldives, a pioneering project with the collective effort of various partners, including island councils, NGOs, and resorts. This shared commitment to PET collection, recycling, and building a circular economy around packaging, aligns with the global call to #BeatPlasticPollution, the theme of this year's World Environment Day 2023. This movement highlights the urgent need for global solutions to combat plastic pollution.
The MRF's launch on World Environment Day, June 5, 2023, is especially significant as it is a tangible response to this year's environmental call to action. A ceremony was held at the site to commemorate this landmark achievement, with Mr Ahmed Gais, Deputy Managing Director of Urbanco, gracing the event as chief guest.
MRFs are pivotal in managing solid waste, processing recyclable materials like PET plastic, and selling them as raw materials for the creation of new products. They are integral in establishing a circular economy, curbing waste and pollution, reducing greenhouse gas emissions, and extending the useful life of recyclable and versatile materials like PET. MRFs also encourage the creation of secondary industries such as waste collection, and generating employment opportunities for the community.
The MOPA MRF, designed to collect, sort, bale and export PET plastic waste for recycling, stands as a testament to the concerted efforts of its partners. The Coca-Cola Foundation provided USD 150,000 in funding to establish and operationalise the MRF.
Situated in Hulhumale Phase 2, the MRF is equipped with a baler machine, transport pick-up, weighing and measuring system, and a forklift, and has a storage facility to hold baled plastic.
"Our mission is to make a difference in communities around the world by investing in transformative ideas and institutions that address pressing global challenges. The inauguration of this facility is a significant milestone in the Maldives' sustainability efforts," Saadia Madsbjerg, President at The Coca-Cola Foundation, said. "We are grateful to the government of Maldives and Urbanco for providing the space to build this facility, adding momentum to the critical dialogue we have initiated with the government on potential avenues for further collaboration in creating a circular economy around PET packaging."
Echoing these sentiments, Mr Ahmed Athif, Managing Director of Urbanco, added, "We are excited to be part of this ground-breaking initiative that sets a new standard for waste management in the Maldives. This facility will not only help reduce plastic pollution but also create new economic and livelihood opportunities for our communities."
The partnership with MOPA is The Coca-Cola Foundation's maiden grant in the Maldives, to bolster efforts to effectively tackle plastic pollution and create a circular economy in Maldives.