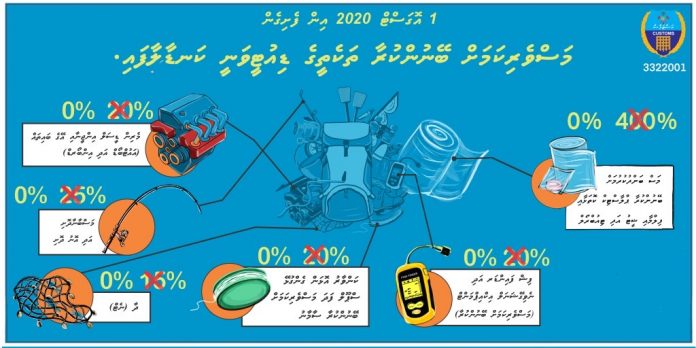 Maldives Customs has announced that effective from August 1st 2020, there will be no import duty charged on goods imported for Fisheries Industry. This includes the packaging such as plastic bags; equipment such as fish finder and navigator; supplies such as spool; marine diesel engine and its parts; as well as fishing nets and fishing rods.
Recently, State Minister of Ministry of Fisheries, Marine Resources and Agriculture, Hassan Rasheed revealed that attempts are being made to reduce the duty on fish exported to Europe. The Minister stated that due to the high duty charged, local companies are unable to receive the full benefits of exporting the products.
"The 24% duty on fish exported to Europe leads to several difficulties for both tuna fishing and local companies. 24% is not a small amount." He further stated that the freight and handling fee of the Maldives is high compared to neighbouring countries. Around $2.45 per kg is charged as airport handling fee. So including freight and handling fees, this totals the cost per kg to $4.75.
Almost 95% of the Maldives' total fish exports are to Europe. Hence, it is important to reduce the export duty to increase demand. According to the World Trade Organization, all types of export taxes have the effect of reducing the volume of exports and are therefore a form of export restriction. The recent elimination of import tax on fishing goods would help reduce the cost incurred in the Fishing Industry. As a result, there could be an opportunity to make the prices of exports more competitive.