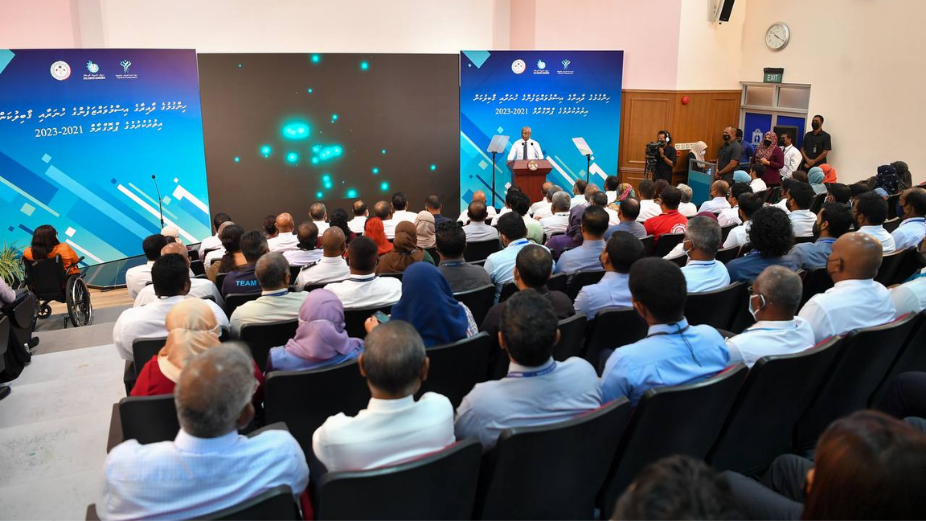 President Ibrahim Mohamed Solih has stated that the Executive Enhancement and Enrichment Programme (EEEP) launched yesterday morning would greatly assist the administration in its efforts to improve, reform, and deliver public services. He made the statement while addressing the function held to inaugurate the programme. He was accompanied at the function held at the Maldives National University (MNU) by Vice President Faisal Naseem and other senior government officials.
The EEEP is a two-year programme initiated jointly by the Public Service Training Unit of the President's Office and the Civil Service Training Institute (CSTI) intended to improve the skills and capabilities of political and executive staff in management positions in the civil service.
Speaking at the ceremony, President Solih said the administration had prioritised improving public services since day one, and noted that coordinated efforts are required to ensure delivery of the administration's pledges. On this note, he urged all political and civil staff to come together and work towards this common goal.
Continuing in this regard, President Solih urged the active engagement of all political staff in the implementation of the government's policies. He further stressed the importance of maintaining a strong relationship between political and civil staff, which he said would greatly improve the efficiency of public services.
Speaking on some of the administration's efforts to improve public services, President Solih noted the ease that came with the launch of the "gov.mv message" service, the official digital service for citizen-to-government communications. He then stressed the need to create public awareness and train public servants on the use of technological advancements to ease the delivery of services. The President also elaborated on the administration's efforts to formulate service charters for all public offices.