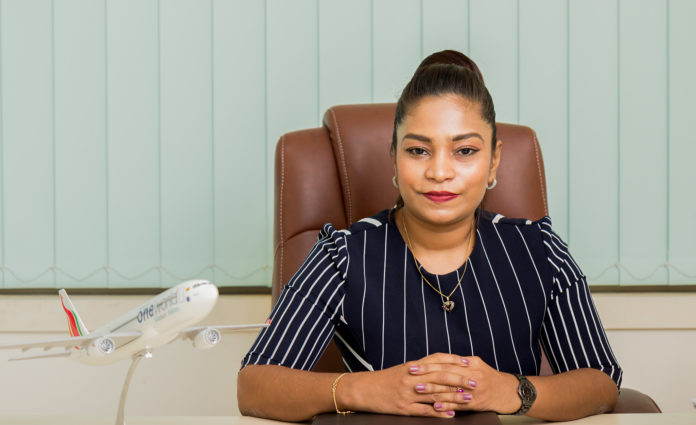 by Ruba Ali
Ibthishama Ahmed Saeed, General Manager of Addu International Airport, raised many eyebrows when she first took over the job. Many questioned why she would change careers from a profession that she was educated and experienced in, to one that was completely unrelated to her field of expertise. Corporate Maldives met up with Ibthishama to talk about her past experiences, her current accomplishments at Addu International Airport and what she has planned for the future.
How did you start your career?
After completion of my advanced education in Srilanka and an Indian boarding school, I took a break from further studies to spend time with my aging grandparents. I was lucky to quickly secure a job to serve as the administrative secretary to the Honorary Consul for Norway, Denmark and Sweden, Mr. Abdulla Saeed. He was the best mentor and was also later appointed as honorary consul for Finland during my tenure. It was an exciting period of my life; it was my first waged job and I felt part of the diplomatic world handling issuance of visas, temporary passports, administrative affairs and working to enhance diplomatic relations under the experienced leadership of the consul.
After a year of work experience, in 1999, the sudden demise of my grandmother resulted in me having to once again resume further studies abroad to complete my degree in Bachelor of Commerce. My banking career thus began three years later as a Graduate Trainee, Junior Officer. I moved slowly up the corporate ladder, working as Corporate Banking Director and Associate Director for Investment Banking and completing my Master's Degree. I took a break from my banking career in 2014 and ventured on to take the challenge to master a different industry.
I was completely new to the Aviation Industry and I have to acknowledge and appreciate the support extended by all industry partners and stakeholders during my initiation to the field. I must admit that my managerial and analytical skills helped me to speedily catch up and be proficient in handling everyday challenges faced by the company during the project for restoration and expansion of Gan International Airport runway.
How did you get involved with the airport?
After leaving the bank, I was looking to enhance my experience by taking on an equally challenging job not completely unrelated to the roots of my experience. I was looking for a challenge that would boost my experience in Investment Finance and Commercial Administration at the same time. There were many influences that went into my decision to work in the aviation industry. If you ask my family they would probably tell you that my first career choice growing up was to become a pilot (contrary to my mom's aspirations of making me a doctor), and my ambition as a teenager was to explore and travel the world. Over the years I had almost forgotten about this passion that I harbored for adventure in the sky.
I also wanted to work for the public-private sector and the availability at Addu International Airport met all my anticipations for my next career. The job offered a challenge in the form of a massive development project for the extension of the existing runway on the airport. For someone with my level of understanding in project management, feasibility analysis and financing this was the ideal opportunity to explore the implementation side of finance in the private sector world. At the Bank, it was more extension of finance to such projects but this involved administration and utilizing the bank finance effectively and efficiently, while meeting stakeholder interests in the best possible way.
So I say to everyone who asks me why the switch over of careers, it's not a switch over this is also very much related to my field of expertise, working with aviation regulators, managing a team, and ensuring that the project was completed successfully; it's the same business coin, just a different perspective.
What are the some of the challenges you face running an International Airport?
Addu International Airport was previously a wholly state-owned entity.  With global trends in airport privatization, AIA has also undergone privatization with a private entity investing in 30% stake in the company. Thus the challenge is to find ways to run the airport more efficiently with stakeholders looking for stability of income.  Airport operation is complex; it requires balancing stakeholder expectations, meeting regulator imposed stipulations and providing the best service to both passengers and airlines.
Historically, the focus has been to generate revenues from the aeronautical side of business. However, global trends are moving towards providing an experience to passengers throughout their journey. One may note that those to opt to fly would of course have more disposable income, thus airports are moving towards focusing on maximizing revenues from the non-aeronautical retail side. Large airports structure their terminals such that passengers have a consumer shopping experience with many high-end retail brands having a presence in terminals. This is evident if you look at our own Velana International Airport. We are yet to develop the retail business concept at Gan International Airport. This is a challenge which we will undertake in the near future.
Attracting more International Airlines to include Gan in their routes will be another challenge as airlines would look for bed capacity generating passenger availability within the region. Thus it is of utmost importance that tourism development and tourist arrivals continue to flourish within the south to enable us to transition from aeronautical dependence to non-aeronautical revenue generation.  Being able to focus operating expenses and investments on the areas that matter most is critical to meeting these challenges.
What do you consider your biggest accomplishment so far while managing the airport?
I believe the successful completion of the runway upgrade and extension project is a great accomplishment. The project included reclamation of additional 960meters of land and constructing extended runway and overlaying the existing runway with the extension of the shoulders to 60 meters in order to cater to wide-bodied aircrafts. Today we boast a 3500m runway that can cater to code E wide-bodied aircrafts. With the project being completed in October, we successfully welcomed Srilankan Airlines as the first scheduled international airline operator with four to five flights per week. For an airport that transformed from an RAF base to a regional airport to an international airport to the one that it is today, this indeed is an achievement to be well noted. I must humbly acknowledge and appreciate the immense support provided by all our staff, shareholders and the Government with their continued quest to undertake infrastructure development projects through all corners of the country. All these parties have been instrumental in the successful completion of the project.
Additionally, on 15th November we established the seaplane operation base at Gan and the first seaplane operations commenced on 16th November, which is also an important milestone. Connectivity within the region, both to locals and international travelers, became more convenient and affordable. This is an incredible achievement to all our staff at Addu International Airport, everyone involved with the project and also to the locals within close proximity of the region.
What are your plans for the future of the airport?  
I would like the airport to not just be focused on the aeronautical side but also non-aeronautical.  I see huge potential for further development within the region. Transiting through the airport should be an experience for every passenger passing through. Gan International Airport should strive to achieve the status of an airport city with future development into city hotels and more offers on retail outlets to make every passengers' journey something they look forward to rather than a place they just want to pass through as quickly as possible. I would like to see the businesses within the region flourish with additional new developments in tourism and travel sector which would greatly support the increase in traffic to the airport. This would help to develop the country's economy as a whole.
What is your advice for young CEOs, and for young ladies who may want to develop their careers like you have?
Let me share some of the experiences and takeaways during the span of my career; I have had to take some unpopular actions, but have never let my gender hold me back, have always been bold and transparent so that my team understands the reason for the actions and stands with me. I do not see any reasons for limitations on actions, achievements, career choices and opportunities because of gender. If you have the drive, if you have the ambition, then there is a lot you can do, and the sky really is the limit for anyone that wants to get into any industry. Don't wait until you check all of the boxes or hold yourself back because of experiences. Create your own boxes and seek big opportunities, and learn along the way. Be a trend setter and an inspiration for others to follow you.