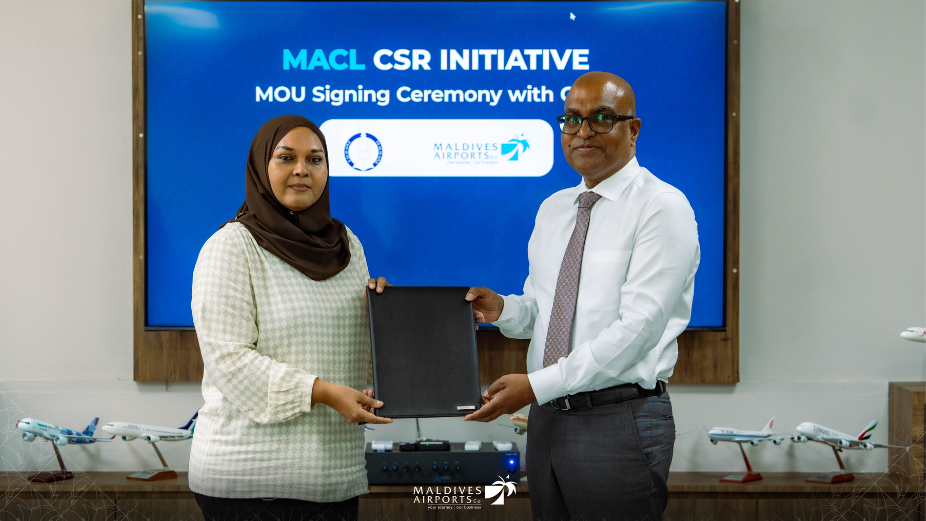 The Maldives Airports Company Limited (MACL) announced its partnership with the Centre for Higher Secondary Education (CHSE) to sponsor the "MACL Merit Award". The partnership, formalized by a Memorandum of Understanding, will support four high-achieving students completing Grade 11 each year over a period of three years.
The MOU was signed at a special ceremony held at MACL Corporate Office by CHSE Principal, Aishath Safoora and CEO & MD of MACL, Mr. Mahjoob Shujau. The MOU signing ceremony was attended by senior members of MACL and CHSE.
Each year, two girls and two boys will be selected based on their academic performance and overall merit. MACL will provide resources to further enhance academic excellence and grant them the chance to experience the diverse working environment at Velana International Airport.
Speaking at the signing ceremony, the CEO & MD of MACL Mr. Mahjoob Shujau, said, "Our goal with the MACL Merit Award is not just to recognize outstanding academic performance, but to empower these bright minds with resources that can further enhance their educational journey. Moreover, we wish to provide them with the opportunity to work at MACL to pursue a career."
This partnership reflects the commitment of both MACL and CHSE to nurturing academic excellence and fostering the holistic development of students, ultimately contributing to the future leadership of the nation.
Since 1979, CHSE has been a leading institution in advanced-level education, producing the best A-Level scores and boasting multiple student wins in the top ten national competitions. This collaboration with MACL aims to further nurture the academic potential of CHSE students.