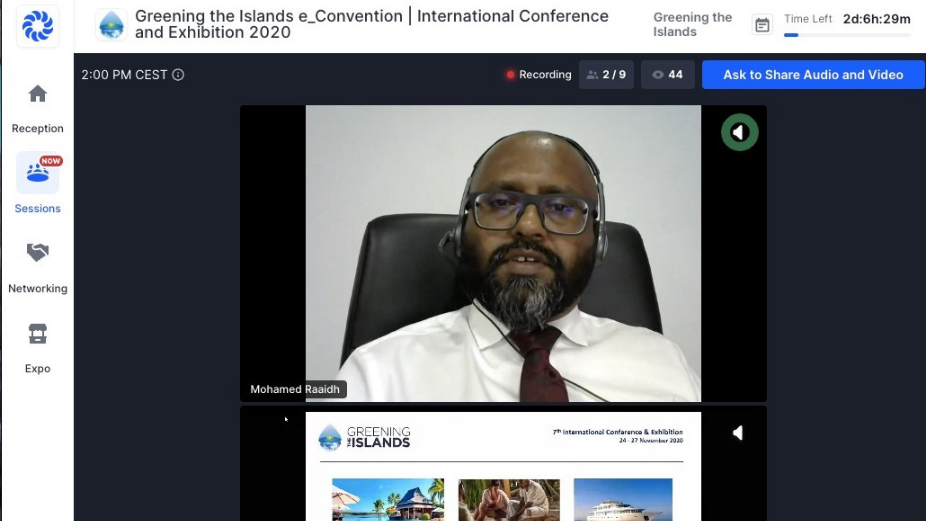 Maldives has participated in the 7th Greening the Islands E-Convention (International Conference and Exhibition 2020) which commenced on 24th November. Maldives Integrated Tourism Development Corporation (MITDC) represented Maldives at the conference organized by Italy's "Greening the Islands" (GTI) association.
The 3-day conference held virtually for the first time will discuss different segments including waste management, wave energy technology, smart grade management system, flight off-shore wind power, maritime transport and sustainable agriculture.
MITDC had a session entitled, "The Island Resorts: How to become a green destination and reduce costs, while engaging local communities. The Maldives' Case Study", at the conference.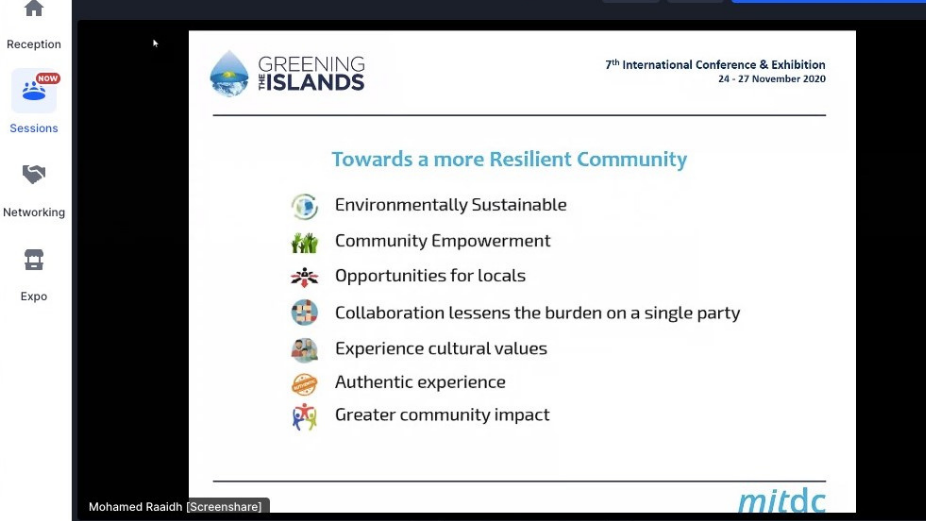 The segment was officially inaugurated by the Minister of Tourism, Maldives, Dr. Abdulla Mausoom and the Minister of Environment, Dr. Hussain Rasheed Hassan.
Upon the occasion, the Tourism Minister thanked GTI and MITDC for focusing a segment on Maldives and noted on the current projects being carried out to promote local island tourism and safe travel during Covid-19, guidelines that have been introduced and future plans for the industry.
The Environment Minister also stressed on the critical ecological issues faced by Maldives and the need to overcome this. He said that Maldivian resort are continuously conducting green projects to produce a greener Maldives.
The presentation given by MITDC's Managing Director, Mohamed Raaid highlighted on the 'Community Based Tourism' introduced in Maldives which will offer locals the opportunity to work at resorts near their home island. He said this initiative will create more jobs in the market and boost the growth of the industry.
The conference also saw presentations from two island councils in Maldives; Hoarafushi and Rinbudhoo who gave a detailed overview of the island and services offered. Moreover, the Deputy CEO of Soneva Group, Bruce Bromley and the Former President of MATATO Mohamed Khaleel also gave a speech at the conference.
The convention set to conclude on 26th November will have the 'Greening the Islands Awards 2020' at 2000HRS Maldives time. Each year, the awards recognizes the innovative and replicable projects in the field of sustainability.