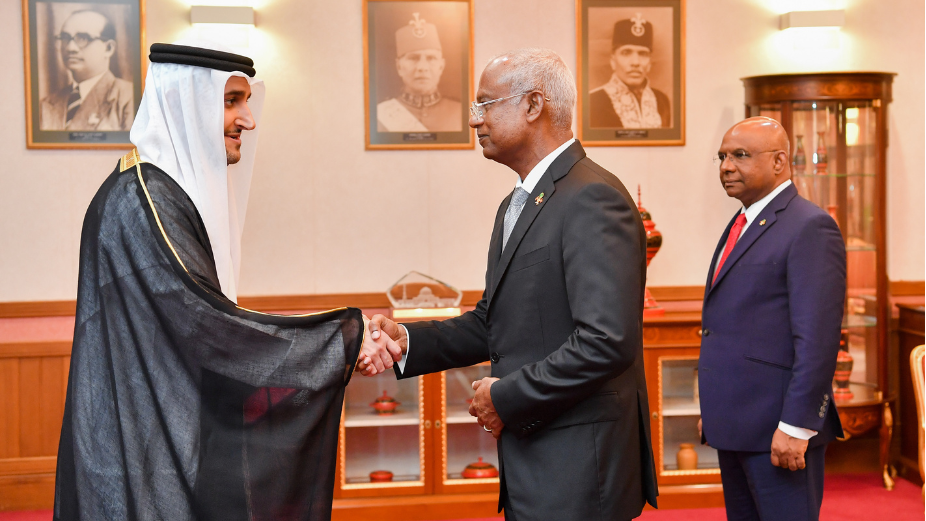 President Ibrahim Mohamed Solih welcomed two newly appointed diplomats, H.E. David Jessup, the High Commissioner of the Commonwealth of Australia, and H.E. Sheikh Rahma Bin Abdul Rahman Bin Rahma Al Shamsi, the Ambassador of the United Arab Emirates (UAE).
The diplomats presented their Letters of Credence to President Solih at the President's Office on Monday.
High Commissioner Jessup's appointment comes at a pivotal time, with next year marking the 50th anniversary of the establishment of bilateral relations between Australia and the Maldives, which first began in 1974.
President Solih lauded the significant progress made in strengthening ties between the two countries and extended his gratitude to the Australian government for their contribution towards capacity-building and training opportunities in the Maldives.
Discussions between President Solih and High Commissioner Jessup covered a broad spectrum of mutual interests. Key areas such as higher education, trade, climate change, air connectivity, tourism, defence and security, and economic cooperation were addressed. Both leaders concluded their meeting by reiterating their commitment to enhancing the bonds of friendship and collaboration between Australia and the Maldives.
In a similar vein, President Solih expressed his pleasure in welcoming UAE's Ambassador Sheikh Rahma to the Maldives. Their dialogue focused on the strong bilateral relations between the UAE and the Maldives, and potential areas for expanding cooperation. The president acknowledged the UAE's vital role in the development of the Maldives and its substantial contributions to the local economy. He extended his sincere gratitude to the government and the people of the UAE.
The discussions between President Solih and Ambassador Sheikh Rahma concluded on a positive note, with both parties underscoring their commitment to fortify the ties of friendship and cooperation between the Maldives and the UAE.
These ceremonies mark a new chapter in the Maldives' diplomatic relations with both Australia and the UAE, reinforcing its position in the international community and advancing discussions on issues of mutual interest.