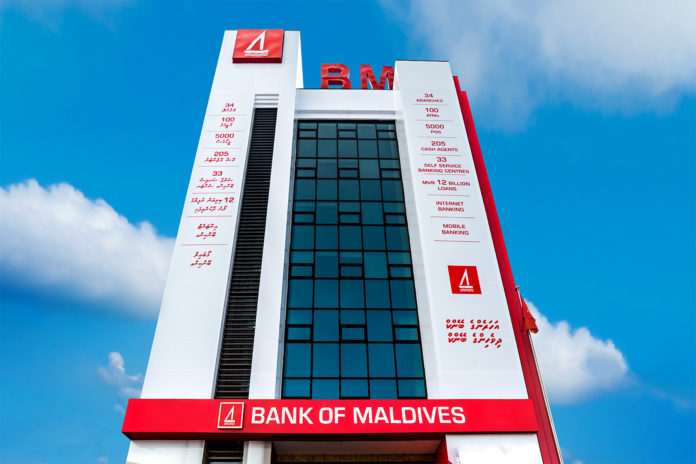 Bank of Maldives today released its audited financial statements and annual report for 2017. The results reflect a very positive year for the Bank as it recorded its best ever financial performance while simultaneously doubling its investment in local communities. Profit Before Tax was MVR 1.416 billion, an increase of 4% in absolute terms and up 20% on an underlying basis versus the prior year.
Bank of Maldives' robust financial position has led the Board to recommend an increase in dividend payout of 10% for 2017 to MVR 118.4 million, MVR 22 per ordinary share. The past year has seen BML implement its largest ever program of investment in local communities under its 'Aharenge Bank' initiative. This program reached out to all corners of the country via more than 50 distinct projects which supported charitable, educational, sports and environmental causes.
The Bank also opened 3 new branches in the atolls as well as 14 new Self-Service Banking Centres. Additionally, its network of agents providing services to those island communities without a branch or ATM was increased from 191 to 230.
BML CEO and Managing Director, Andrew Healy commented "The past year has further strengthened our confidence in the Bank's strategic direction. The results show an increasingly robust bank which is continuing to simultaneously grow and invest. I would like to extend my thanks to our wonderful team of staff for their extraordinary dedication during the year. Thank you also to all our customers, old and new, for your support. You can be assured we will continue to work hard and humbly to meet your expectations."
Andrew emphasized that the Bank's improved financial performance has facilitated its increased investment in communities. "Financial robustness has provided the necessary platform to step up initiatives to support individuals, families and businesses across the country. Therefore it is no coincidence that we managed to double our investment in local communities during the year and we will see further significant investment over the year ahead."