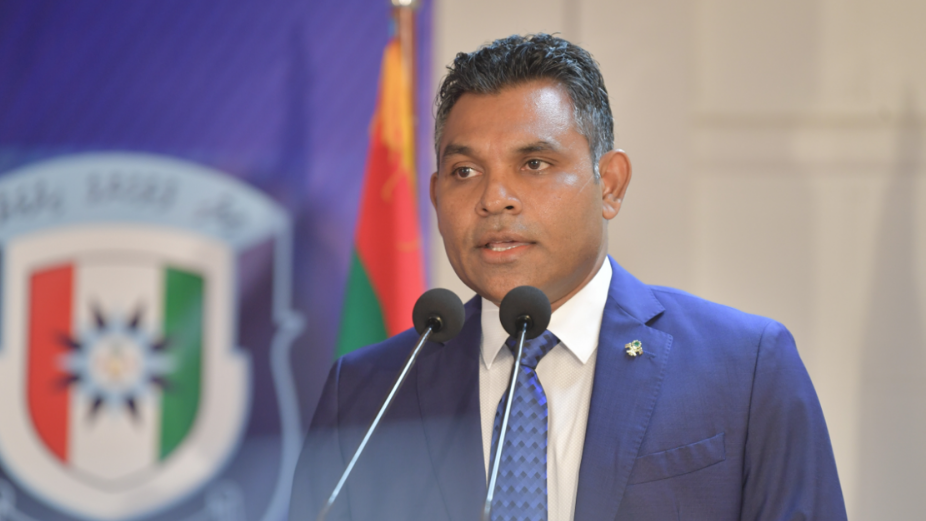 Vice President Faisal Naseem urged police officers on Saturday to be fair and impartial while upholding the law and respecting Islamic values while exercising their duties. He made this statement while speaking at the oath-taking ceremony for police officers following the enactment of the newly ratified Police Service Act (Law No. 34/2020).
Speaking at the ceremony, the Vice President highlighted the police's role in protecting Maldivian citizens' fundamental rights and safeguarding peace in the country. He described the enactment of the new Police Service Act as a fresh start for Maldivian citizens towards safe and dignified lives.
The Vice President stated that passing laws is not enough, highlighting the importance of enforcing these laws. He highlighted the changes promoting community-based policing in the new law, where island councils, Non-Governmental Organisations (NGOs) and other relevant bodies engage with the police in maintaining harmony. Vice President Faisal Naseem urged the public to assist the police in keeping the peace. He also recapped the value accorded to equity in Islam and reminded the officers to preserve the peoples' dignity as they perform their duties.
The Police Service Act establishes the fundamental principles, guidelines, roles and other aspects concerning police officers, aiming to streamline policing. Police officers are mandated to ensure the public's safety—without discrimination or influence—and in line with human rights best practices. The law promotes professional standards within the police force and paves the way towards community-oriented policing under a decentralized governance system.
The Vice President was accompanied by Chief Justice Uz Ahmed Muthasim Adnan, Minister of Home Affairs Sheikh Imran Abdulla, Commissioner of Police Mohamed Hameed, and senior officials of government offices the police service.