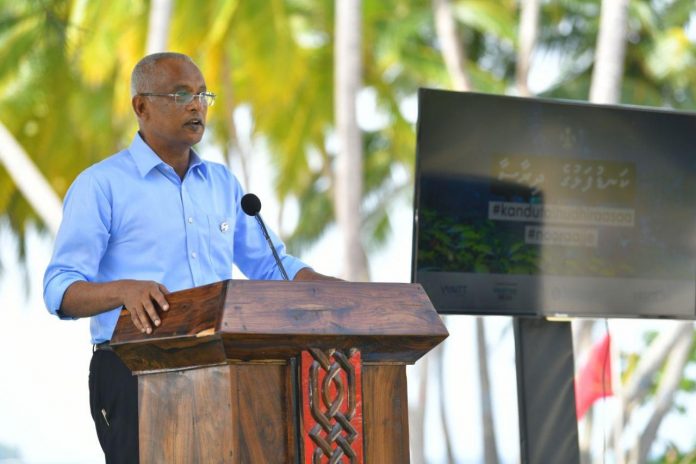 President Ibrahim Mohamed Solih has said that we have a responsibility to safeguard and conserve our oceans for future generations. He made the statement at the event held by Maldives Marine Research Institute in association with Blue Prosperity Coalition at Neykurendhoo island of Haa Dhaalu Atoll.
Speaking at the event, President Solih expressed his gratitude to the partners of the Blue Prosperity Coalition and the Maldives Marine Research Institute involved in the Maldives Expedition, citing that it is by far the most detailed research expedition launched to survey our oceans. President Solih noted that tourism and fisheries are the largest economic drive forces of the country and that the expedition will gather much-needed statistics to assist policymakers in making more informed decisions.
The President emphasized that the research will be carried out in two phases adding that research teams will conduct a biodiversity census at the initial phase and evaluate the factors affecting the biodiversity of the ocean. He added that the results of the research will be made available to the public as a publication.
Speaking in the same regard, President Solih stressed that the second phase of the research will focus on deriving policies in accordance with the research outcomes. He added that the research will assist the Maldives in implementing a truly Blue Economy that will balance economic growth with the sustainability of our marine resources.
The President further noted that councillors will play a pivotal role in the implementation of conservation efforts which fall under their respective jurisdictions, since the amendment to the Decentralization Act granting more autonomy to administrative councils.